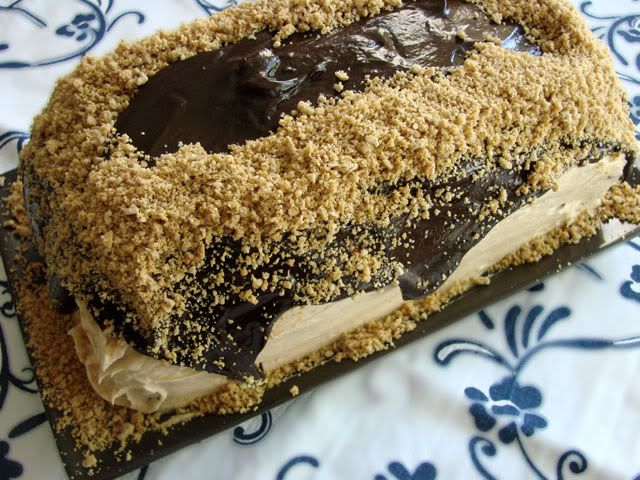 This year for Claire's 9th birthday, I told her that I would bake her ANY kind of cake she could dream up... Claire is lucky she didn't ask for anything too complicated, it could have been a major flop.... but baking an "invented cake" was fun.

Claire was quite precise, she wanted a chocolate cake with peanut butter in the middle and chocolate on top and then crushed Oreo cookies on top of that.

I thought I could improve slightly on Claire's inspiration. I made a four layer cake with peanut butter cream cheese icing with a chocolate-peanut butter ganache and crushed Pirate cookies on top. (Note: Pirate cookies are a peanut butter cream filled cookie made by Christie... you can probably find an equivalent, if you can't find Pirate's).

This cake was "oh-my-god-good".



This post is really more about the filling and icings, than the cake itself... because I cheated and used a Duncan Hines Devil's Food chocolate cake mix as the base and concentrated on making the icing really good. You know icing is good when you purposefully decide the cake has enough when there's still a half cup in the bowl (which you cannot let go to waste). So you sneak out of the kitchen with the bowl and a rubber scraper and come back three minutes later and yell to the kids, "who wants to lick the bowl?". They come running over, and peer hopefully into the bowl in which you've managed to leave one or two small streaks of icing!!

I knew that for a family of four, we'd be eating this cake for a week if I made a whole one, so I cooked the cake mix in two 9x9 inch square pans. I froze one for later. That way I was able to make a four layer rectangular shaped cake that I could slice like a loaf of bread. The cake made 8 slices (4 each for two nights) and the pieces were frankly WAY too big (although strangely that didn't stop me from cutting the exact same size pieces the second night). The cake was so rich, I probably should have sliced it into 10 or even 12 pieces.

Chocolate Peanut Butter Cake

1 package chocolate cake mix (prepared according to package directions)
8 pirate cookies, (6 to crush in food processor for decorating, and 2 to eat)

Peanut Butter Cream Cheese Icing
10oz cream cheese, softened
1/2 cup butter, softened
5 cups icing sugar
1 cup smooth peanut butter

Chocolate Peanut Butter Ganache
4oz semi sweet chocolate, roughly chopped
2 tbsp smooth peanut butter
1 tbsp corn syrup
1/4 cup heavy cream

1. Make cake according to package directions in two 9x9 inch loaf pans. Let cool completely. Wrap and freeze one cake (otherwise, double the icing and ganache and make a whole cake - square or round).

2. Slice the remaining cake in half. And then slice each of the two rectangles into two layers, so that you have four rectangular shaped layers.

3. To make the icing, in a mixing bowl beat together the cream cheese and the butter until creamy. Add the icing sugar about 1 cup at a time, beating between each addition. Stir in the peanut butter. Taste. Sigh.

4. Place the first cake layer down on your chosen cake plate. Spread a layer of icing (Sorry, didn't measure how much I put between each layer), but make it about 1/4 inch thick, there's lots of icing, so you don't need to worry about running out. Repeat with the next layer, and then again with the third layer. Place the last layer on top and then frost the entire cake with the remaining icing. (Note: if you are lucky, you will have about 1/2 cup of icing left over - tee hee)

5. Chill the cake while you are making the ganache. Melt the semi-sweet chocolate in a double boiler and stir in the cream, peanut butter and corn syrup. Let cool a few minutes, but not too much, it should still be pourable.

6. Pour the ganache over the cake and spread slightly with an icing knife to encourage it to drip down over the sides a bit.

7. While the ganache is still wet, sprinkle the cake with crushed Pirate Cookies.

8. Chill until ready to serve.