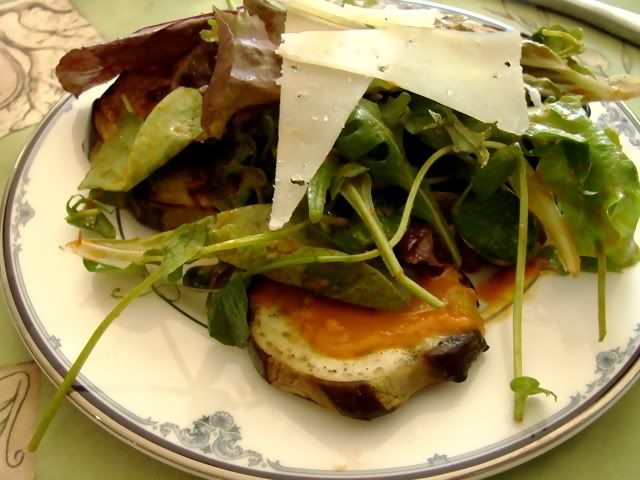 This was a delicious salad that I made a few weeks back when my Mom came over for dinner on her 65th birthday. This salad was the appetizer, for the main course I made BBQ leg of lamb with tahini sauce (recipe coming soon!) and for dessert we had Hot Cross Bun Bread Pudding. The recipe for the salad dressing called for smoked paprika, but I only had hot paprika on hand. So, even though I cut down the amount a little, my salad dressing had some serious kick, or as my six year old, Marco, would say.... this salad "stings my tongue!"

Turns out I could have gone ahead and added a cup of hot paprika, my kids weren't going to touch this salad anyway (I think they ate the cheese curls only)... so in that case, I figure I might as well continue to make it the way the adults prefer it... stinging tongue and all!

Grilled Eggplant Salad
from Eating Well Website

2 small eggplants (about 1 pound total)
1 1/4 tsp salt
cooking spray
1/4 cup olive oil
1 tbsp sherry vinegar
1 plum tomato, diced
1 clove garlic, chopped
1 1/2 tsp smoked paprika (I used 1 tsp hot paprika)
3 cups mixed baby salad greens
2 oz Manchego cheese

1. Make decorative stripes down the length of the eggplant with a vegetable peeler, and then cut the eggplant crosswise into 1/2" thick slices. Spread on a baking sheet and sprinkle with 1 tsp salt. Let stand 15-20 minutes then rinse thoroughly and pat dry.

2. Preheat BBQ to medium. Lightly spray eggplant with cooking spray and grill for about 10 minutes total (turning halfway) until eggplant is soft and has grillmarks on both sides.

3. In a blender, puree the oil, vinegar, tomato, garlic, paprika and 1/4 tsp salt.

4. In a large bowl toss salad greens with half of the salad dressing.

5. On 6 salad plates, arrange a few slices of eggplant. Drizzle with remaining salad dressing, and then top with salad greens and a few curls of Manchego Cheese (make curls with a vegetable peeler).