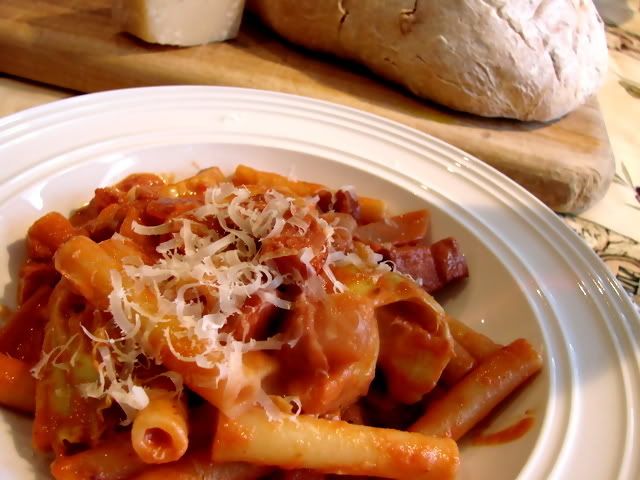 I apologize, everyone must be getting so bored with seeing this same soup bowl over and over again. I'll have to start trying to be more creative with my photo staging.

Years ago when Mario and I were in University, we had a standing date night every Wednesday with another couple at a local Italian restaurant. This restaurant, which is now closed, had half price night on Wednesdays. The four of us would order 1 medium pizza with Italian Sausage, Tomatoes and Onion and have a slice each for an appetizer, and then we would each have a main course. Mario and I usually ordered the same thing (a testament to how good this meal was, because normally Mario won't order the same thing as me). We loved a dish called "Tortellini Hayden", it had bacon, artichoke hearts, onion, and tortellini in a tomato cream sauce. It was so good and it came with a nice hunk of baguette toasted with garlic butter (all this for around 10$ a person).

I have made numerous attempts over the years to re-create "Tortellini Hayden", sometimes more successfully than others, but I have never recorded exactly what I did, so each time I have to start from scratch figuring it all out.

This dish isn't exactly the same, it has chorizo along with the bacon and penne instead of tortellini, but overall it was inspired by the original "Tortellini Hayden" and if anything, the chorizo was an improvement.

This time, I wrote it down...

Tomato Cream Penne with Artichoke and Chorizo

1 can artichoke hearts (quartered)
4 slices bacon, chopped
1 cup chopped chorizo sausage
1/2 cup chopped onion
1 clove garlic
1/2 tsp oregano
1/4 tsp each basil and thyme
ground black pepper to taste
1/2 lb dry penne
2 cups strained tomatoes
1/2 cup heavy cream
Freshly grated Parmesan

1. Saute bacon and drain fat, reserving about 1 tsp of the drippings.

2. Return bacon and tsp of dripping to pan and add chorizo, garlic and onion. Saute until onion is soft.

3. Put penne on to boil.

4. Add artichokes, tomato sauce and spices and allow everything to simmer while pasta cooks.

5. Drain pasta and add to sauce along with cream. Stir until cream is incorporated and heated through.

6. Sprinkle with fresh grated Parmesan and serve.