The best part of having a party and getting everyone to bring food, is the potential to discover great new recipes. Our friend, Al made this dessert for our potluck dinner, and it is a recipe that I can't wait to make again. It was so simple, yet just delicious. My Mom would call this one "more-ish" because you can't eat just one apple slice and stop.

We had quite a bit leftover after the dinner party, and Claire and Marco went crazy for it. I had trouble getting them to stop eating (I guess they thought it was "more-ish" too). I was trying to keep an eye on them to make sure they didn't make themselves sick. They could obviously sense that any second I was going to cut them off and take it away, so they were cramming the apples slices in as fast as they could (see how I encourage healthy eating habits?).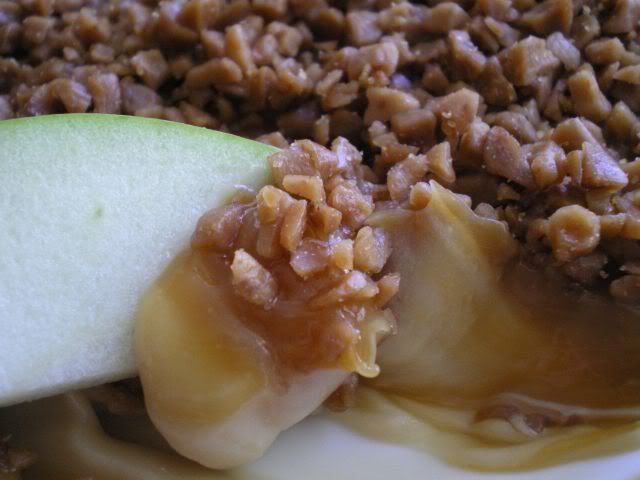 Apple Caramel Dip

1 pkg (8oz) cream cheese
3/4 cup brown sugar
1 container caramel (usually found in the produce section)
1 pkg skor bits
Granny Smith apples, sliced

1. Beat the cream cheese with brown sugar until smooth. Spread thinly onto large serving plate.

2. Heat the caramel slightly (about 15 second in microwave) to make spreadable. Spread on top of cream cheese.

3. Sprinkle the package of Skor bits all over the top. Serve with sliced Granny Smith apples for dipping.