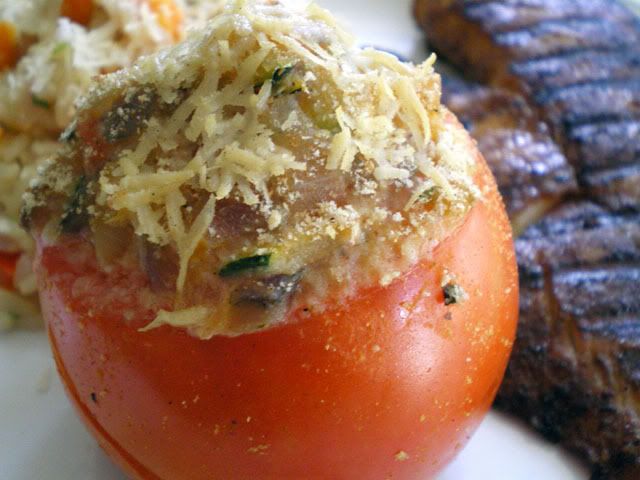 I wanted to make some stuffed tomatoes to go alongside my Snapper with Coffee Butter, and I had a basket of nice local tomatoes in the fridge... but not much else. So I had to improvise with what I had on hand. In the end I was very pleased with the result.

The kids didn't want to eat them so I gave them spoons and they just scooped out the insides. But I think the joke was on them, because the inside stuffing was loaded with vegetables and even more tomato...

Stuffed Tomatoes

4 medium tomatoes
1 tsp olive oil
1 onion, finely diced
1 small zucchini, grated
2 cloves garlic, minced
1 tsp dried basil
1/4 cup ricotta cheese
salt and pepper
1/4 cup Parmesan cheese
2 tbsp dried breadcrumbs

1. Slice one end off the tomato and scoop out the insides (I actually slice the bottom off, so they will stand without toppling). Chop the insides up and reserve.

2. Saute zucchini, onion and garlic in 1 tsp oil until tender.

3. Add reserved chopped tomato, basil and salt and pepper to taste. Stir in the ricotta.

4. Stuff the tomatoes and sprinkle with Parmesan and breadcrumbs.

5. Grill on barbecue for 10-15 minutes (note: I brought them inside and put them under the broiled for an addition minute to brown the tops).