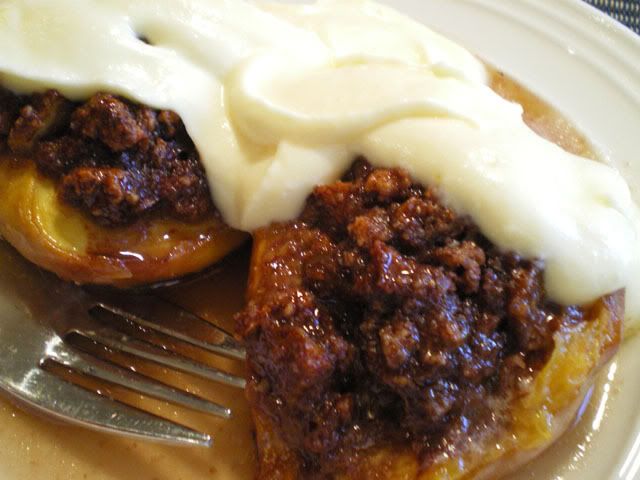 I was watching the Food Network the other evening and Giada DeLaurentiis made a recipe eerily similar to this one (with a few differences). I watched slack-jawed as she made this recipe.... OH (gasp) MA (trying to breath) GAWD (feeling lightheaded).... Giada has been READING MY BLOG!!!

Tears of joy are streaming down my face, I've done it! I've hit the BIG TIME!! There's violin music inside my head...I'm picturing guest spots on "Everyday Italian"... me and Giada, arm and arm enjoying our "Weekend Getaways", laughing and giving each other "air kisses"..... then Mario says "oh, I didn't think you'd posted that recipe yet".

And I came crashing back down to earth. This post was still sitting in my draft folder, unpublished and definitely NOT providing inspiration to Giada.

But I still do just want to say, for the record... honest... I promise, I made this recipe BEFORE I saw it on "Everyday Italian". I swear.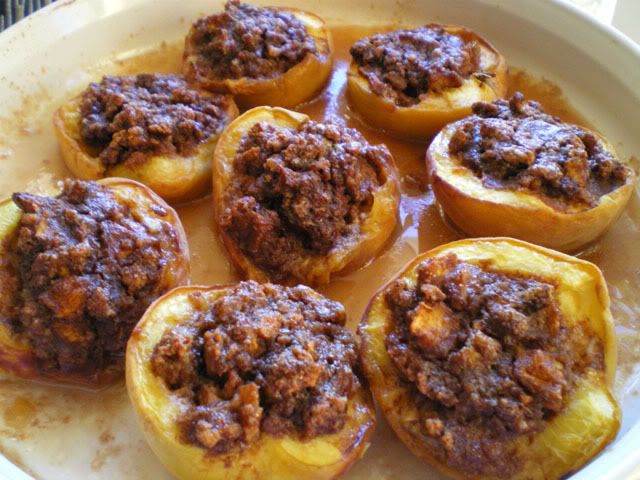 Stuffed Peaches with Mascarpone Cream
from Mediterranean Food of the Sun, Jacqueline Clark and Joanna Farrow

4 large peaches
1.5oz amaretti biscuits, crumbled
2 tbsp ground almonds
3 tbsp sugar
1 tsp cocoa powder
2/3 cup sweet white wine
2 tbsp butter

For Mascarpone Cream:
2 tbsp sugar
3 egg yolks
1 tbsp sweet white wine
1 cup mascarpone cheese
2/3 cup heavy cream

1. Wash peaches and cut in half. Remove pits and some of the flesh to make a space for stuffing (leave about 1/2" thick shell). Roughly chop the peach flesh that was removed.

2. Mix together the amaretti biscuits, almonds, sugar, cocoa and chopped peach flesh. Add enough wine to make the mixture into a thick paste.

3. Place peach halves in a greased casserole dish and fill with the stuffing. Dot with butter and pour the remaining wine into the baking dish.

4. Bake for 35 minutes at 400F.

5. Meanwhile, make mascarpone cream. Beat the sugar and egg yolks until thick and pale. Stir in the wine and fold in the mascarpone.

6. Whip the cream until soft peaks form and fold cream into the mascarpone mixture.

7. Remove peaches from oven and allow to cool slightly. Serve with mascarpone cream.