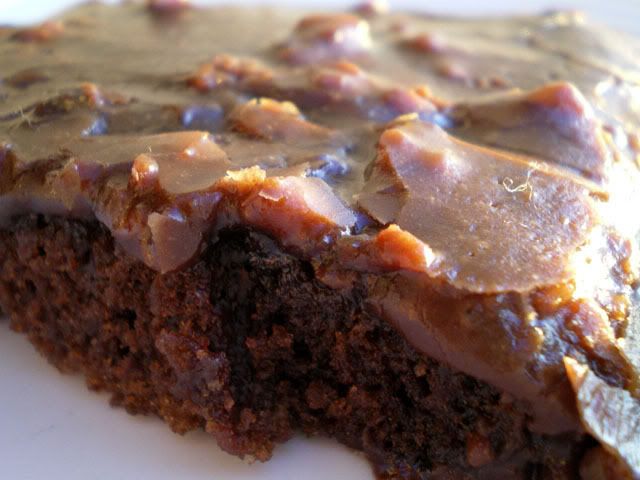 First of all, I just wanted to say... if you look closely at the picture you can see a fuzzy little hair on top of the icing on the right hand side of the cake. Well, we did NOT serve cake with fuzz on it, that is dust on your computer monitor... so go ahead and brush it off.... (right now as you are reading this, my Mom is sitting in her kitchen reading this post on her laptop, and she's trying to brush the dust off her monitor. Aren't you Mom?)

This cake was Mario's contribution to the dinner party that we had a few weekends ago. It is taking me a while to get all the posts together, but in my defense, as the evening wore on and the wine was flowing more freely, my pictures started to get a little blurry. At the time I thought it was just my eyes that had lost focus not the camera. But unfortunately most of my pictures look exactly like they were taken by a slightly off-kilter tipsy person....so I need to 're-make' a few of the recipes to get better pictures.

Mario spent forever choosing his recipe for the party, at which all the men did the cooking. I think he wanted to impress everyone... you know show everyone that I am not the only one in our family who can cook. And he's right, he is a good cook, and he likes to cook. If I wasn't around, I am very confident that our children would continue to eat well. Perhaps a lot of the same things over and over, but they would be home cooked and healthy.

First Mario was going to try Crepes Suzette because he really wanted to "Flambee" something. Eventually I vetoed that, because I was having nightmares involving 18 drunk people and open flames...

So what I did was point Mario in the direction of one of my favorite food blogs. I sat him down in front of the computer and pulled up the blog. I told him he could make anything from that blog and it would be guaranteed to turn out good. The blog was....The Pioneer Woman Cooks. I love this blog for two reasons. First, it is piss your pants funny; second, the recipes are wicked; and third, (OK 3 reasons) the photography is impressive. I have tried several recipes from this site - check out the Olive Cheese Bread, and I've never been disappointed. I also thought it was good for Mario since there aren't hundreds of recipes on there, so it wouldn't be overwhelming for him to choose.

Mario picked the Chocolate Sheet Cake. It was a perfect choice, and it made enough to give a generous slice to all 18 guests with a few pieces leftover (we cut the cake into 20 pieces). The cake was delicious, it was moist and perfect (with all that butter, it better be!)

Chocolate Sheet Cake
from The Pioneer Woman Cooks

2 cups flour
2 cups sugar
1/4 teaspoon salt
2 sticks (1 cup) butter
4 heaping tbsp cocoa
1 cup boiling water
1/2 cup buttermilk
2 eggs, beaten
1 tsp baking soda
1 tsp vanilla

Icing:
1/2 cup finely chopped pecans
1 3/4 sticks butter (1 cup minus 2 tbsp)
4 heaping tbsp cocoa
6 tbsp milk
1 tsp vanilla
1 lb minus 1/2 cup powdered sugar

1. In a mixing bowl, combine the flour, sugar and salt.



2. In a saucepan melt, 1 cup of butter, add cocoa, and water. Let mixture boil for 30 seconds, then turn off heat.

3. Pour chocolate mixture over flour mixture and stir lightly.

4. In a measuring cup, mix buttermilk, baking soda, eggs and vanilla. Stir buttermilk mixture into cake batter. Pour into sheet pan (use a large cookie sheet with a rim or a jelly roll pan. Mario used a cookie sheet that is about 11" x 17").

5. Bake at 350F for about 20 minutes.

6. While cake is baking, make icing. Melt 1 3/4 sticks of butter (equals 1 cup less 2 tbsp) in a saucepan. Add cocoa and stir to combine. Turn off heat.

7. Add milk, vanilla, and icing sugar. Add pecans and stir together. Pour over warm cake. Use a spatula to spread out to the edges, if necessary.

8. Cut into squares and serve.