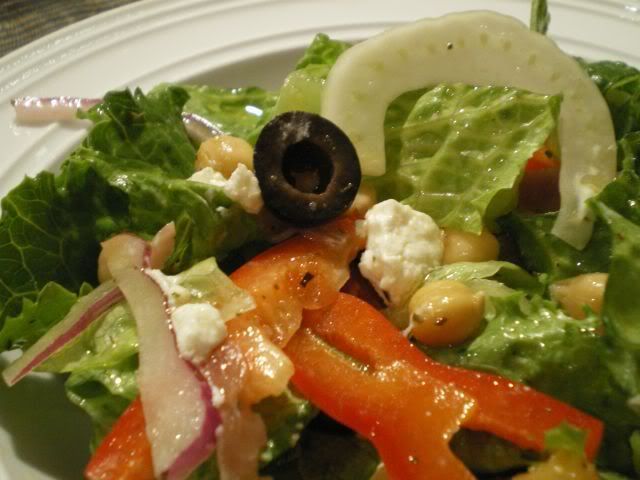 I had my Mom and Dad over for dinner on Sunday night. I wanted to make homemade Gnocchi for them, since my Mom has never tried it before. I have made this Gnocchi recipe 5 times since my friend, Roger, taught me how. It is so easy to make and so so good. The last time I made it, I made way too much, and before I boiled the Gnocchi I flash froze them, now I have a huge Ziploc bag of homemade Gnocchi in the freezer, just ready to be dumped into some boiling water for a few minutes. GENIUS!! (if I do, say so myself).

Anyway, enough about the Gnocchi, this post is supposed to be about the salad. I didn't feel like making a Caesar salad to go with this. It just seems like I am ALWAYS making Caesar salad. But, I wanted something that complimented the meal. So, I went on Google and typed in "Italian Salad"...I found this recipe on Epicurious. It was so unbelievably good! It was perfect and this one is "recipe file worthy".

I made a couple of small changes to the recipe (because I can't help myself... I like to meddle). I even wanted to change the name of the salad because "Italian Salad" just doesn't sound that sexy. But unfortunately my creative juices aren't running today and the only name I can come up with for the salad is.... "Chopped Salad with Garbanzo beans, Red Pepper, Red Onion and Fennel garnished with Proscuitto, Black Olives and Goat Cheese, in a garlic oregano Vinagrette, seasoned with Salt and Pepper"

Italian Salad

1/2 cup olive oil
1/4 cup white wine vinegar
1 1/2 tsp dried oregano
1 large garlic clove, minced
8 cups chopped lettuce (mixture of romaine and leafy)
1 19 oz can garbanzo beans (chickpeas), drained
1 red bell pepper, thinly sliced
1 cup very thinly sliced red onion
1 cup very thinly sliced fresh fennel bulb
1/2 cup crumbled goat cheese (about 3 ounces)
2 ounces thinly sliced proscuitto cut into strips
1/4 cup sliced pitted black olives
salt and pepper

1. In a bottle, let the minced garlic sit in the olive oil for a few hours. When ready to mix the salad add the white wine vinegar and oregano. Close the bottle and shake well.

2. In a large bowl add chopped lettuces, garbanzo beans, red pepper, red onion and fennel. Toss with salad dressing and season.

3. Sprinkle olives, goat cheese and proscuitto on top.