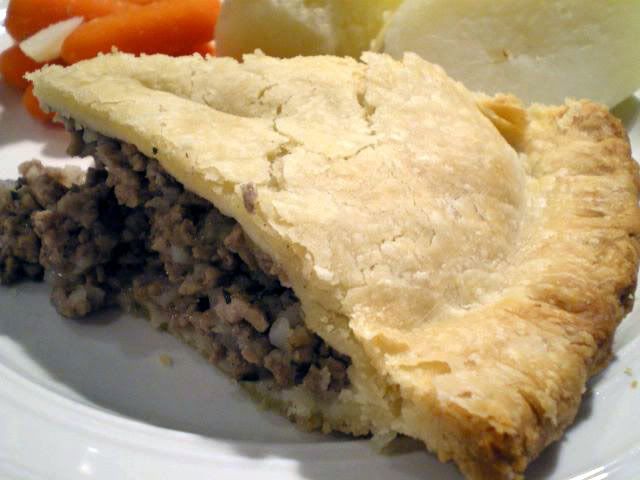 Tortiere is a very traditional dish around this area, and particularily in Quebec. There are several different variations of tortiere. The most common, I believe, is a mixture of ground pork, with onion, celery and seasonings, but some tortieres use a mixture of beef and pork or chunks of meat rather than ground meat.

This is my favorite version of the recipe. Mario's family is French Canadian, and his Mom makes tortiere often. I like mine better and finally, after years of nagging and threatening, I actually got Mario to admit that he likes mine better too, but shhhh.... don't tell his Mom!

This is a major favorite with the kids too. But really what's not to like about ground pork and pastry? I always serve my tortiere with some steamed vegetables and pickled beets.

Tortiere

Double 9" Pie Crust:

2 cups flour
1 tsp salt
3/4 cup vegetable shortening
5-6 tbsp cold water

Meat Filling:

1 1/2 lbs ground pork
1 onion, chopped fine
1/4 cup celery, chopped fine
2 cloves garlic, minced
1 tsp salt
1 tsp ground summer savory
1/3 tsp pepper
1/4 tsp allspice
1 bay leaf
1/2 cup water
1 small potato, boiled and mashed
1 egg yolk
1 tbsp milk

1. Prepare pastry: Cut cold shortening into cubes (TIP: In my pastry I always use a mixture of butter - for flavour, and shortening - for flakiness). Place butter/shortening in food processor with flour and salt. Pulse a few times.

2. Dump flour mixture out into a bowl and start adding water a tbsp at a time until mixture forms a dough that will hold together. Wrap with plastic wrap and refridgerate for about 30 minutes.

3. Make filling: In a non-stick skillet with a cover, cook pork, breaking up the larger chunks.

4. Add onion, celery, garlic and cook until the onions are tender.

5. Add salt, savory, pepper, allspice, bay leaf and water. Cover and simmer for 15 minutes. Remove lid and simmer 5 more minutes until most of the water is gone (it should still be quite moist).

6. Add mashed potato and remove bay leaf.

7. Roll out pastry (TIP: I roll my pastry out between two sheets of plastic wrap, when it is the right size, peel one sheet away and use the other to pick up the pastry and flip it over into the pie plate). Fill with meat mixture, cover with second half of pastry and seal edges. Cut a few vents in the top.

8. Brush top with a mixture of egg yolk and milk.

9. Bake at 425F for 30-40 minutes until golden brown.