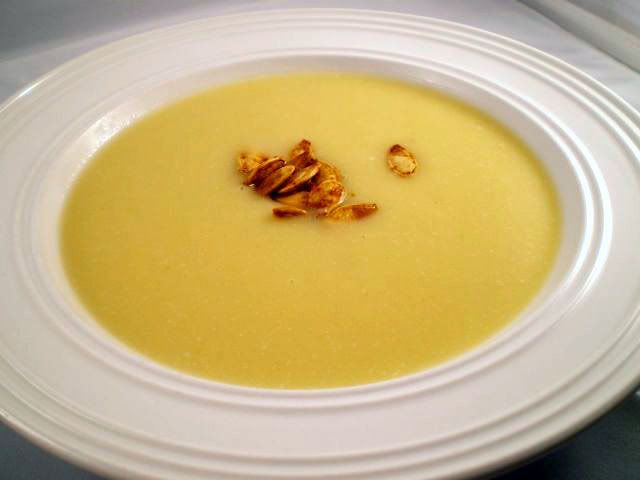 Cream of Pumpkin Soup has been a fall favorite of mine since Mario's Mom first made it for me (way back when). I'll pretty much take ANY kind of cream soup over a broth based soup, but this one is particularly good.

As an added bonus, both Claire and Marco gobbled it up, apparently without any awareness of the pure volume of vegetables per spoonful. You can make this by using 2 cups of milk instead of 1 cup cream plus 1 cup milk. Obviously the soup is much thicker and richer when you use cream, but it is still good with all milk. I won't tell you how I made mine, because you should do as I say, not as I do (or vice versa?). I'm confused. Whatever, it's your pick... just don't come complaining to me if you gain 10 pounds because I did PROVIDE you with a healthy option...

Cream of Pumpkin Soup

4 cups cubed pumpkin
1 cup chopped onion
1 cup chopped celery
3 tbsp butter
1 cup potato, peeled and chopped
3 cups chicken broth, homemade is best
1 cup heavy cream
1 cup milk
salt and pepper to taste
Roasted Pumpkin Seeds for garnish

1. Saute pumpkin, onion and celery in butter for 10 minutes.

2. Add chicken broth and potato. Bring to a boil and simmer for 20 minutes.

3. Let cook slightly and puree in a food processor or blender. When ready to serve, add milk/cream and reheat. Season to taste.

4. Garnish with Roasted Pumpkin Seeds.