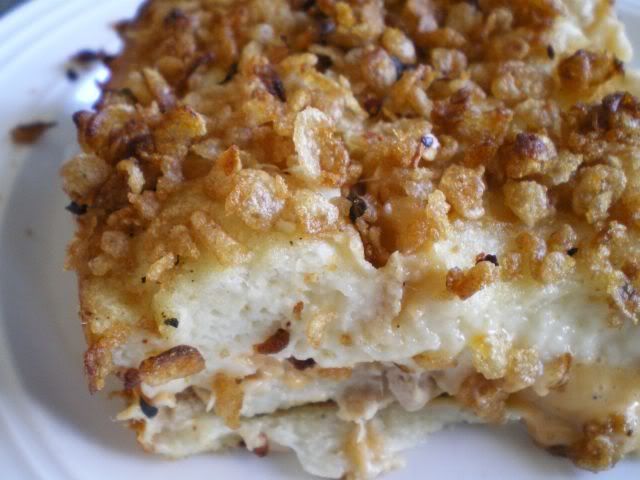 Here is a great little weekend lunch that I make sometimes for Mario and the kids. Claire and Marco just love this, and then there is usually one piece leftover for Mario to take to work for lunch.

This recipe started out as a brunch recipe with Ham and Cheese, but one time I decided to use tuna and make it for lunch. It was even more popular, like a crunchy tuna melt. I think this is a pretty healthy lunch for the kids. I use skim milk and light cheddar cheese. In order to make sure they had some vegetables, I sliced some cucumber and carrot sticks to go alongside. They used the vegetables to make faces on their sandwiches and then discarded them. But hey, I did my job!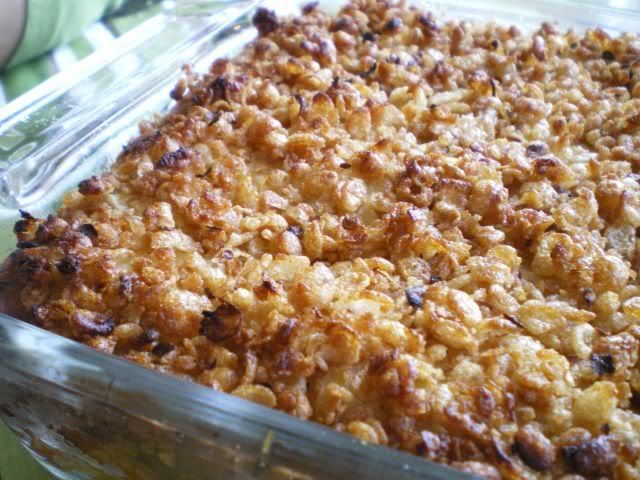 Tuna and Cheese Strata

8 slices of bread
1 can tuna
1/4 cup miracle whip
1 cup cheddar cheese, grated
3 eggs
1 1/2 cups milk
1/4 tsp salt
1/4 tsp pepper
1/2 tsp dry mustard
1/4 cup minced onion
1/2 tsp worchestershire sauce
1/4 cup butter, melted
1 cup crushed cornflakes

1. Spray an 8 x 8 inch baking dish with cooking spray and arrange 4 slices of bread on the bottom.

2. Drain tuna and mix with miracle whip. Spread evenly on top of bread. Top tuna with grated cheddar.

3. Cover with remaining 4 slices of bread.

4. Mix together the eggs, milk, salt, pepper, dry mustard, worchestershire sauce and onion. Pour over bread. Let sit for and hour or so (I usually put this together right after breakfast on the weekend and then let it sit until 11:30 or so, and pop it in the oven).

5. Melt butter and stir into crushed cornflakes. Right before putting in the oven, spread cornflakes over top of bread. Bake at 350F for 1 hour. Let stand for 5 to 10 minutes before slicing.