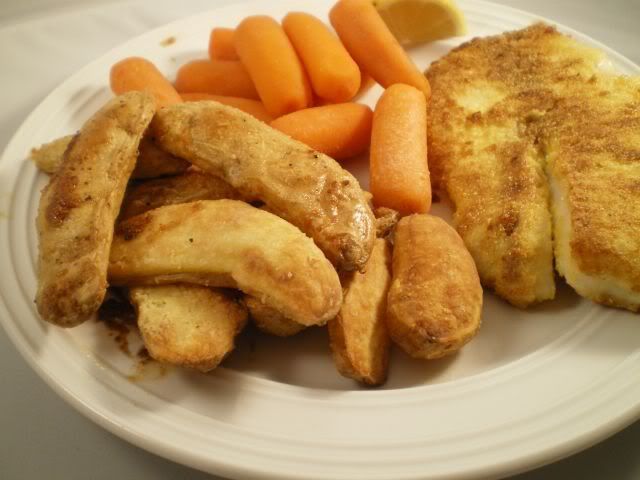 There are just so many unique and interesting ways to prepare potatoes. So why is it then, that I alway fall into a rut. A potato rut. Mashed potatoes, potato wedges. That seems to be my potato repetoire these days. I do have a few favorite potato recipes. My Smashed Potato recipe is to die for, but it just seems like a bit too much effort for a regular weeknight dinner. Same with my Mashed Potato Puffs, I love those but they call for cottage cheese which I don't normally stock.

So last night for dinner, I knew I needed to make something "postable" because my archive backlog is drying up. The main event was pan fried snapper filets with a store bought coating, so I can't post that. So I made some Parmesan Roasted Fingerling Potatoes. They were quite good, I will make them again.

Parmesan Roasted Fingerling Potatoes

1 bag (2lb) fingerling potatoes
1/4 cup flour
1/4 cup parmesan cheese
1/2 tsp salt
1/4 tsp pepper
1/4 cup olive oil

1. Cut the fingerling potatoes in half lengthwise. Wash and dry the potatoes.

2. In a plastic bag mix flour, grated Parmesan, salt and pepper. Drop in potatoes and shake to coat.

3. Spread olive oil on a non stick baking sheet (or a baking sheet lined with parchment paper). Arrange potatoes cut side down.

4. Bake at 400F for 15 minutes. Flip potatoes and bake another 15 minutes.