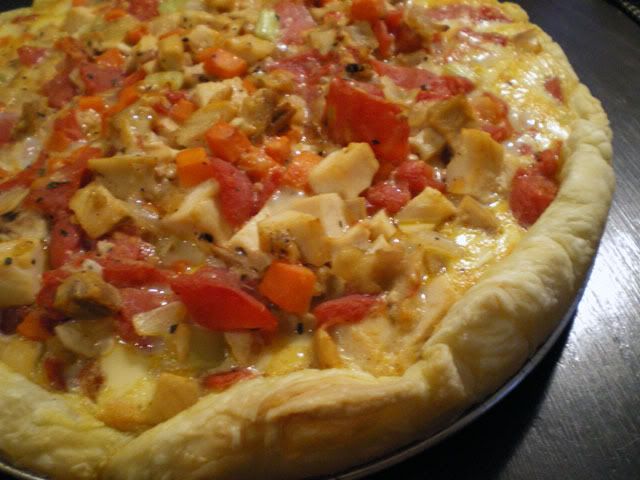 I made this chicken tart the other night for dinner. Let me explain what I did. I took a recipe that I found on Deborah's Blog... Taste and Tell... and I wrecked it. Well that might be a little harsh, what I did was make is LESS good. So if you want to make this the correct, yummy way - go see her blog. If you'd like to stay here and let me lead you astray.... read on.

This recipe just looked so yummy delicious to me, I couldn't help but want to try it. I decided to use diced chicken breast instead of sausages and skim milk instead of cream to lighten it up. That was silly, you can't lighten anything up when it's stuffed inside puffed pastry! It's sort of like putting a dollop of fat free cool whip on a huge slab of Pecan Pie... you might as well just pile on the REAL whip cream and enjoy it by that point!

The recipe also called for fresh tomatoes and fresh basil. I didn't have any, so I used canned tomatoes and dried basil (gasp).

OK so now I was done destroying a perfectly good recipe, I went on to make it. Well the recipe said to roll the puff pastry out into at 13" circle. The puff pastry I had in the freezer was already a 10" square, so I had a lot of fun trying to get into a circle. I folded in the corners and ended up with a 13" stop sign.

Then I was too lazy to blind bake the crust with my pie beads. So I just poked some holes in the crust and threw it in the oven as is. Well after 10 minutes I had a huge stop sign shaped pillow. I scratched my head for a few minutes trying to figure out where the heck I would put my filling. I ended up just mashing down the middle of the tart, I am using the word "tart" very loosely. Then I piled my filing in the centre.

When I was all done, I decided it was all still too fattening anyway, so while Mario and kids ate it, I had a plain chicken breast and a spinach salad. Despite my best attempts to destroy this dinner, Mario and the kids loved it!

Savoury Chicken Tart

1 package (8oz) refrigerated puff pastry
1 lb diced cooked chicken breast
1 cup canned diced tomatoes
1 tsp dried basil
1 clove garlic, minced
2 tbsp grated Parmesan cheese
1/4 cup Mozzarella cheese, grated
2 eggs
1/2 cup milk
1/2 tsp salt
1/4 tsp pepper

1. Roll puff pastry on a floured surface into a circle that is 13" in diametre. Press dough into tart pan and fill with dried beans or pie beads. Bake 8-10 minutes at 425F.

2. Meanwhile, mix together the chicken, tomatoes, garlic, basil, cheeses, eggs, and milk. Season with salt and pepper.

3. Pour into baked "tart" shell and bake for 15 minutes. Reduce oven temperature to 350F and bake for an additional 10-12 minutes until egg mixture is set.

4. Cool 5-10 minutes before slicing.