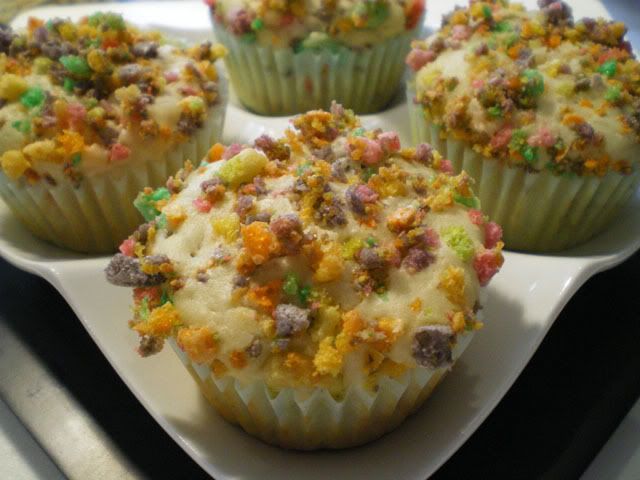 I went to plug in my camera this morning to download the lovely pictures of the delicious savoury chicken tart that I made for dinner the other night, and my batteries were "depleted". So instead, I was forced to go searching through the archives on my laptop looking for a recipe I had made but never posted about. I stumbled across this one.

I never posted this because, personally, I wasn't a huge fan. Although if you warm them up and slather them with butter, they aren't half bad! Claire and Marco, on the other hand LOVED these muffins and have been asking me to make them again ever since.

If I do make them again, I think I will try to find way to redeem them somewhat by making them a bit more nutritionally sound.... maybe I'll grate up some carrot and zucchini and throw it in (they'd never notice with all that colour going on). And I could use whole wheat flour and cut down the fat and sugar.

Fruit Loop Muffins

1 3/4 cups flour
1/4 cup sugar
1 tbsp baking powder
3 tbsp butter, melted
1 egg, slightly beaten
1 cup milk
1/2 tsp salt
1 1/2 cups Fruit Loops cereal, left whole
1/2 cup Fruit Loops cereal, crushed
1 tbsp melted butter

1. Combine flour, sugar, baking powder and salt. Add melted butter, egg, milk and 1 1/2 cups fruit loops. Stir to combine.

2. Mix 1/4 cup crushed fruit loops with 1 tbsp melted butter.

3. Spoon muffin batter into greased or paper-lined muffin tins. Sprinkle tops with fruit loop crumb mixture.

4. Bake at 400F for 20 minutes or until a toothpick inserted in the centre comes out clean.