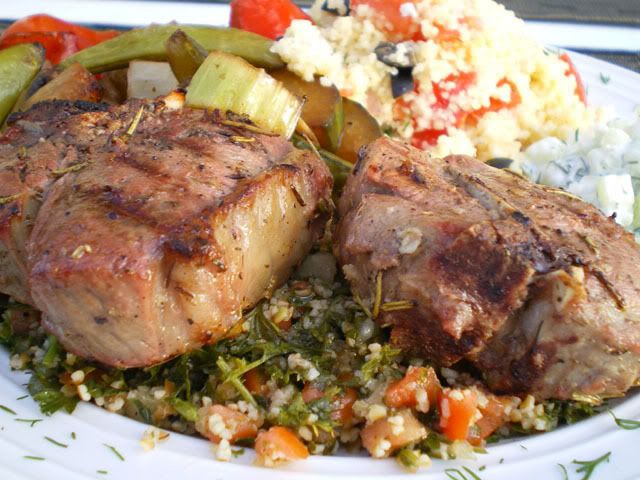 We love to grill lamb chops, they are so easy and quick. This is a recipe that I just made for the first time, and we really enjoyed it. I served these lamb chops on a bed of store bought tabbouleh salad. On the side we had a Mediterranean style couscous and grilled vegetables. Overall it was a very very nice meal.

I didn't crush the dried rosemary before I marinated the lamb. The kids weren't too impressed with that, they kept picking them out and saying there were "twigs and sticks" in their dinner. Oh well, one time somebody found a bread tab in their dinner, and another time I baked that little corner you cut off the milk bags into a loaf of banana bread... (eating my food can be a risky undertaking). So overall, a couple of twigs isn't so bad.

So, what's the strangest thing that accidentally found it's way into YOUR cooking (or maybe I'm the only one that happens to)...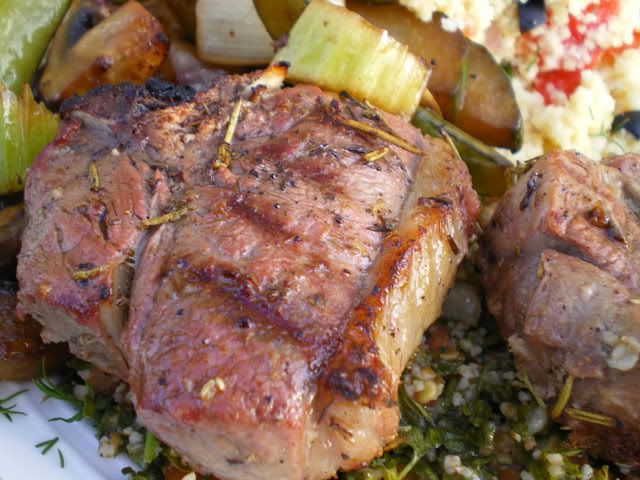 Marinated Grilled Lamb Chops
adapted from Readers Digest

3 tbsp olive oil
1 tso grated lemon zest
3 tbsp, fresh lemon juice
2 cloves garlic, minced
1 tsp dried rosemary, crumbled
1/2 tsp dried thyme, crumbled
1/2 tsp salt
1/4 tsp black pepper
6 lamb chops
1 lemon cut into wedges



1. Mix together the oil, lemon zest, lemon juice, garlic, rosemary, thyme, salt and pepper. Add chops and marinate for about 4 hours. Mixing occassionally.

2. Preheat the grill, and place chops directly over hot coals. We like ours medium rare, so they cook really fast (2-3 minutes per side is plenty).