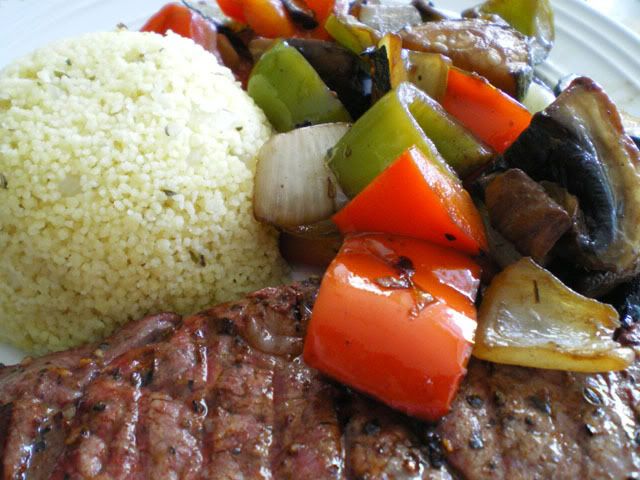 We went over to dinner at some friends of ours last weekend, and they served some marinated grilled vegetables. They were very good, and it reminded me that I haven't made them yet this summer. Shame on me! Barbecue season is half over!

So I hauled out my own recipe for grilled vegetables and had them Tuesday night with steak and couscous.

Marco, my 4 year old, said (and you really need to picture him when he's talking, his eyes are all wide and he gestures with his hands, and he is DEAD serious)... so he said, "Mommy... these vegables are ossable!.... O-SSA-BLE!"

.....uh, thanks??

So, is that good? I really don't know, he ate half of them, plus all his steak and all his couscous. This was enough to earn him one cookie for dessert. We have a "two cookie rule" at our house. Two cookies is a serving, for everybody - kids and grown-ups. If you eat all your dinner you get two. If you don't eat all your dinner, but you made a good effort and you at least TASTED everything, then you get one cookie. No effort, gets you nothing (just like life in general).



Marinated Grilled Vegetables
also known as "Ossable Vegables"

1 medium zucchini, sliced
1 red pepper, chopped large
1 green pepper, chopped large
1 medium onion, chopped large
6 med-large mushrooms (quartered)
1/4 cup olive oil
1/4 cup soy sauce
1/4 cup fresh lemon juice
1 clove garlic, crushed
Salt and Pepper

1. Mix marinade (last 5 ingredients) and pour over vegetables in a large bowl.

2. Let sit for at least 30 minutes.

3. Grill on BBQ in a grill basket (if you don't have one, you can stick the veggies on skewers) for about 15 minutes in grill basket.