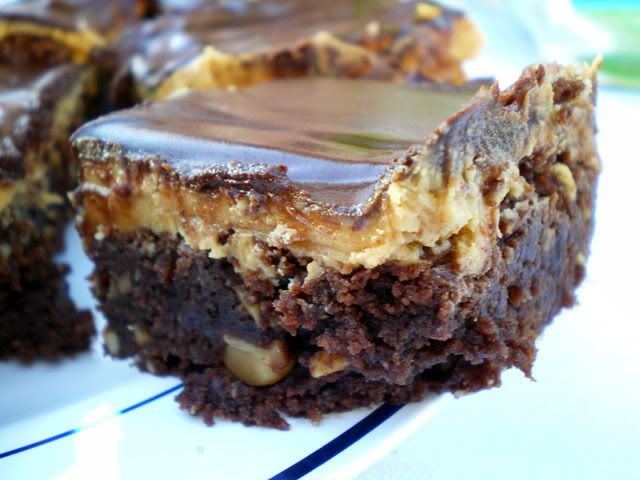 I made these brownies a few weekends ago when I had some friends over for dinner, and then I brought all the leftovers to work the following Monday (to remove the temptation from home). They were very popular. I did eat one, the night I had them for my friends, and they were delicious, but then again I have a serious bias towards ANYTHING that combines chocolate and peanut butter.

Honestly, some of my favorite peanut butter and chocolate recipes might even find their way onto this site someday. How about "Crunchy Chocolate-Peanut Butter Spoonfuls". You take a spoon, get a good glob of peanut butter on there, then press about 8 chocolate chips into the peanut butter, then dip the whole spoon into the Rice Krispies box, to get it nice and coated ... lick the spoon clean, REPEAT.

Or another favorite, "Chocolate-Peanut Butter Sandwich cookies". Get some store bought Fudgeo Cookies, twist them apart, spread some peanut butter inside, close it back up... enjoy with cold milk. I really could go on for ever, my imagination when it comes to peanut butter and chocolate knows no bounds.

I am submitting this recipe to the Browniebabe of the Month competition hosted by Myriam over at Once Upon a Tart. The winner gets a Browniebabe of the month apron! Wish me luck!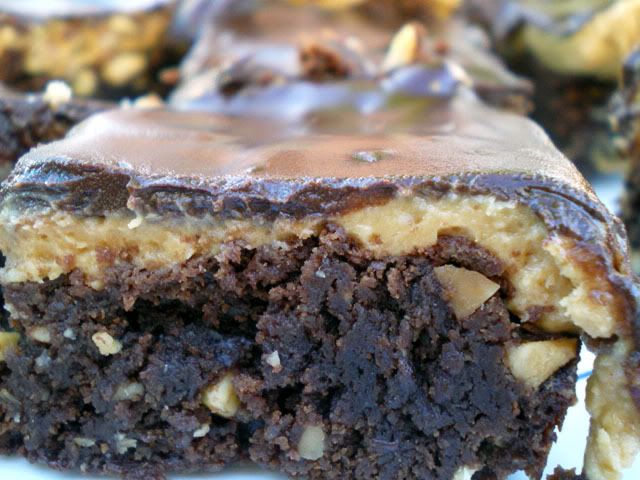 Peanut-Layered Brownies
Adapted from Bakers' Chocolate "Easiest Ever Chocolate Recipes"

Brownie Layer:
4 squares (4 oz) unsweetened chocolate
3/4 cup butter
2 cups sugar
3 eggs
1 tsp vanilla
1 cup flour
1 cup chopped peanuts

Peanut Butter Layer:
1 cup peanut butter
1/2 cup powdered sugar
1 tsp vanilla

Glaze
4 squares (4 oz) semi-sweet chocolate
1/4 cup butter

1. In a double boiler melt unsweetened chocolate and 3/4 cup butter. Stir until completely melted. Remove from heat.

2. Stir in sugar. Mix in eggs, vanilla, flour and peanuts.

3. Spread in a greased 13" x 9" baking dish and bake for 30 minutes at 350F. Cool in pan.

4. Mix peanut butter, powdered sugar and vanilla. Spread over brownies.

5. In double boiler, melt semi-sweet chocolate and 1/4 cup butter. Stir until chocolate is completely melted. Spread over peanut butter layer.

6. Cool until set. Cut into squares.