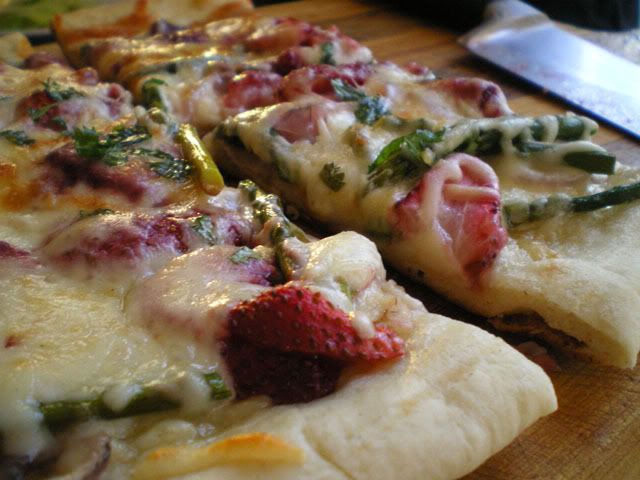 A few weeks ago, I was reading the food section of the Ottawa Citizen and they had a recipe for "Asparagus Strawberry Pizza". I thought that was a great idea, then I read further and realized that the recipe actually called for "Strawberry Tomatoes" (never heard of em, must be from the same family as Grape Tomatoes or Cherry Tomatoes?). I became stuck on the idea of an Asparagus Pizza with actual Strawberries, so I created my own. I also added some Proscuitto (because my husband balked at the idea of a pizza with no meat) and some sliced red onion.

I have decided that this recipe will also be my entry for this month's Monthly Mingle, "Spring is in the Air", hosted by Meeta at What's for Lunch Honey?.

We grilled our pizza on the charcoal BBQ. I'm not sure I would try this on a gas BBQ, the heat may be too high, and burn the bottom of the crust before the topping is even warmed up. So if you don't have a charcoal grill, put your pizzas in the oven on a cookie sheet at 475F for about 15 minutes.

I would also like to stick my tongue out at my friend Bill, who says that "fruit does not belong on a Pizza" :-P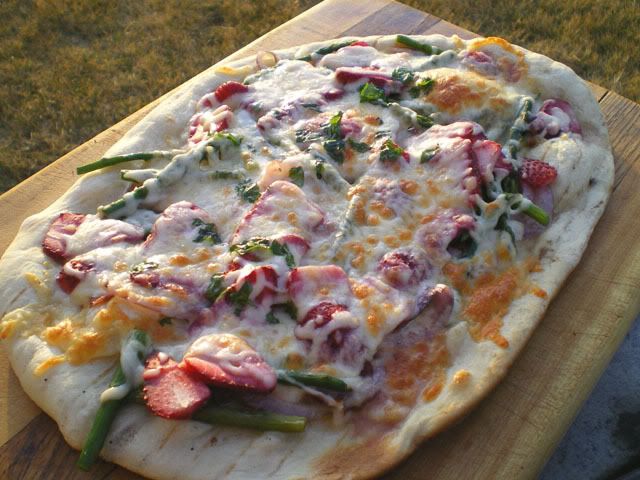 Asparagus and Strawberry Pizza

Pizza Dough:
3/4 cup warm water
1 envelope active dry yeast
2 cups flour
1 tsp sugar
3/4 tsp salt
3 tbsp olive oil

Toppings:
1/4 cup olive oil
20 asparagus spears
1/2 large red onion, sliced
1 1/2 cup sliced fresh strawberries
4 slices proscuitto (about 2-3 oz)
2 cups cheese blend (I used mozarrella, provolone and Parmersan)
2 tbsp fresh cilantro, roughly chopped

1. Prepare Dough: dissolve yeast in 3/4 cup warm water for about 5 minutes. Mix dry ingredients. Add yeast mixture and oil to flour mixture. Mix until dough forms a ball. Turn out onto a floured surface and knead for 10 minutes. Cover and let rise for 1 hour (until double in bulk).

2. Punch down dough. Let rest for 10 minutes. Divide dough into two and roll out into two free form pizzas (about 13" by 8" each).

3. Prepare toppings: Cut off the asparagus tips (I only used the top 3"). Poach asparagus in simmering water for about 3 minutes. Drain. Sauté onion in a tiny bit of olive oil for 2-3 minutes until slightly soft. Add proscuitto to onion for the last 1 minute.

4. Place pizza dough directly on the grill. Brush with oil, and add onion, proscuitto, asparagus, strawberries and cheese. Sprinkle with cilantro. Close BBQ lid and grill for 10-15 minutes until toppings are bubbly hot. If you are doing this in the oven, you can go ahead and arrange all the toppings on top of the dough on cookie sheets before you put the pizzas in the oven.