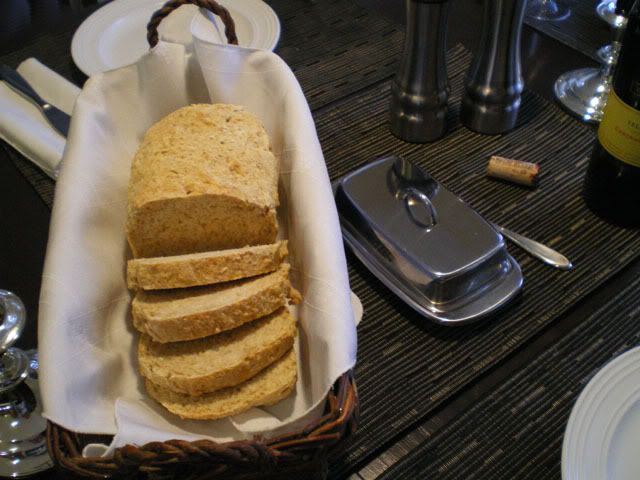 This loaf is a nice savoury compliment to baked beans or chili. It can be whipped up quickly without having to worry about yeast and rising time. The original recipe called for 1 cup of cheddar cheese, but I changed it to 1/2 cup of Parmesan because I think its a better flavour combination with the beer and Dijon. Make sure you serve this one hot out of the oven. The kids loved it, until I told them there was beer in it. Mario's reaction: "please tell me that is NOT my last beer!"..... oops!

Beer Bread

2 cups flour
1 cup whole wheat flour
1 tbsp sugar
pinch salt
1 tbsp baking soda
1 (341ml) bottle of beer (NOT your husband's last one!!!)
1 tbsp Dijon mustard
1/2 cup Parmesan cheese

1. Preheat over to 350F, and grease a loaf pan.

2. Mix white flour, whole wheat flour, salt and baking powder in a large mixing bowl.

3. Stir in beer, cheese and dijon until it makes a batter (it will not be a very wet batter).

4. Turn into loaf pan and bake for 40-45 minutes, until golden brown and firm to the touch.