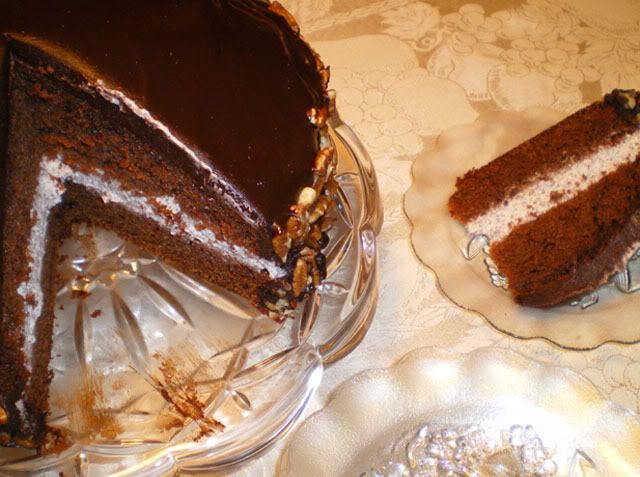 I brought dessert to my Mom's house for Easter dinner. I decided to try a new recipe from the April 2007 edition of Bon Appetit Magazine (please follow that link, if you'd like to see what that cake was supposed to look like, if prepared by a pastry chef and photographed by a professional photographer). Regardless, mine tasted pretty good, and I've made far worse looking cakes before. This recipe took a while to get ready, and I had a few problems. I am always scared of over-whipping the cream and making butter. Sometimes this leads to not whipping it enough. Luckily the icing in the middle layer of the cake has some gelatin which helped it firm up after a few minutes. I had to add the middle layer in two stages though, or else I think I would have had a big mess in my fridge. I put half the icing on the bottom layer, and chilled for 10 minutes, then added the rest on top and chilled for 10 minutes. Then I added the top cake layer. I also had some issues with the chocolate glaze. I followed the directions, but had trouble getting it to stay on the sides of the cake. Overall, it was a good cake and Mario said "It was fine." (yeah, I know... and yes we are speaking again now).

Double Chocolate Honey Dome Cake

Cake:
Cooking Spray
2 1/4 cups flour
1/4 cup cocoa powder
1 tsp baking soda
1/2 tsp salt
3/4 cup sugar
1/2 cup honey
2 large eggs
1 tsp vanilla
3/4 cup oil
1 1/2 cup buttermilk

Cream Filling:
1 tbsp water
1 tsp unflavoured gelatin
1 1/4 cups heavy whipping cream
1/2 cup sour cream
3 tbsp honey
1/2 cup finely grated bittersweet chocolate (about 1 oz)

Chocolate-Honey Glaze:
10 oz bittersweet chocolate, chopped
1 cup heavy whipping cream
1/2 cup honey 1 cup pecans, toasted, chopped

1. Preheat oven to 350F. Spray a 9" round cake pan and line bottom with parchment paper.

2. Whisk: flour, cocoa, baking soda and salt in medium bowl. In another bowl whisk: sugar, honey, eggs and vanilla. Stir oil into the egg mixture. Add dry ingredients and buttermilk into egg mixture and mix until wet. Pour into prepared pan. Bake 55 minutes or until toothpick comes out clean. (The sides of my cake pan weren't high enough, so my cake developed a "muffin top". I sliced that off with a sharp knife and gave the scraps to the kids.)

3. For the cream filling, cut the cake in half horizontally. Place one tbsp of water in a small bowl and sprinkle with gelatin (let sit 10 minutes). Bring 1/4 cup of the cream to a boil and remove from heat. Stir in gelatin. Let come to room temperature, stirring occasionally. Meanwhile, beat whipping cream, sour cream and honey until peaks form. Beat in gelatin mixture and grated chocolate.

4. Spread filling on bottom half of cake. The middle layer ends up being almost an inch thick, but the filling is still pretty runny in the beginning, so you might have to do this in two stages. Place top half of cake over filling and chill overnight.

5. The next day... place chopped chocolate in a large measuring cup, bring cream and honey to a boil. Pour cream and honey over chocolate and stir until melted. Let sit about 20 minutes, stirring occasionally until thickened a bit. Place cake on a cookie rack with a cookie sheet underneath. Pour chocolate over cake (you might have to scoop up the chocolate that ran right off the cake to the cookie sheet, and use it to fill in the sides). Press nuts around the sides.

6. Chill before making ANY attempt to move the cake into a pretty cake plate.