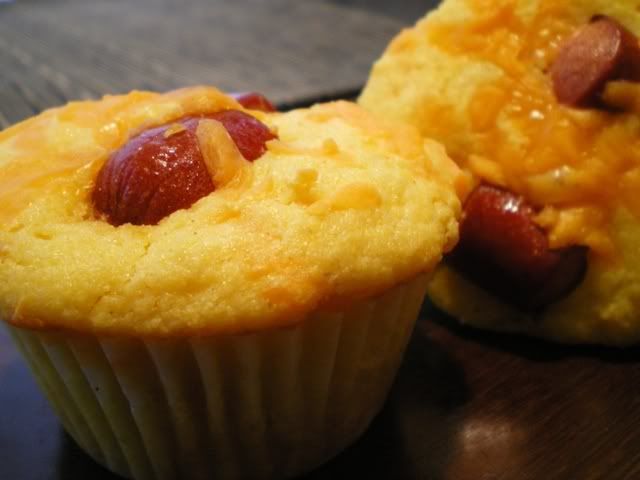 At some point during my eternal search for an easy lunch that I can send to school with my daughter, Claire (preferably one that she will actually eat), I had an epiphany..... corn dog muffins. I have re-named them pogo stick muffins, but this is purely a marketing strategy to ensure Claire's buy-in. I couldn't find an exact recipe that suited my needs, so I adapted one. I wanted the muffins to use actual corn, not have too much fat and sugar, and have some cheese for flavour. These muffins are a big hit. I can freeze them individually wrapped then just pull one out in the morning and throw it in the lunch box with some carrot sticks and a piece of fruit. Voila! - call me "SUPER MOM"... OK that's a stretch, but here's the recipe anyway.

Pogo Stick Muffins

1/4 cup fat free sour cream
1/4 cup olive oil
1 egg
1/4 cup sugar
8 1/2 oz can of creamed corn
1/2 cup flour
1 cup cornmeal
1 tbsp baking powder
1/2 tsp salt
1/2 cup cheddar cheese
10 hotdogs cut into chunks

1. Preheat oven to 325F.

2. Mix sour cream and oil in mixing bowl. Stir in egg and sugar. Mix well.

3. Add corn, flour, cornmeal banking powder, salt and cheese. Stir until ingredients are all wet.

4. Fill each muffin cup 2/3 full and poke hotdog pieces down into batter. Sprinkle a little additional cheese on the tops, if desired.

5. Bake 30 minutes, or until toothpick inserted in center comes out clean.