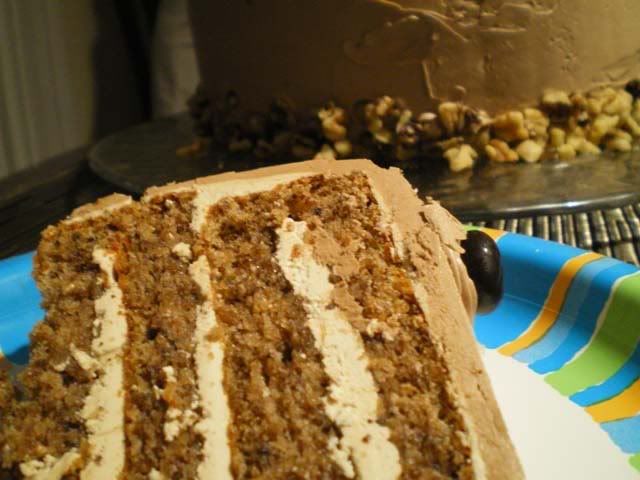 Well, when I figured out I was having 20 or so people to the house for cake on Mario's birthday, I realized that one cake wouldn't be enough. Hooray! An excuse to try a new cake. I found the recipe for this cake in the May 2007 issue of Canadian Living Magazine. I loved it, and the finished product looked very polished.

This cake used mostly ground walnuts and only a little bit of flour. I couldn't find ground walnuts in the store so I made my own. Since I don't have a nut grinder, I used my food processor and this worked fine. In order to prevent the walnuts from turning into "walnut butter" I added a tbsp of sugar from the 1 cup needed for the cake to the nuts when I processed them. The sugar absorbs some of the oils from the nuts. I did the nuts in three batches and I only used the "pulse" button. It took one 400g bag of walnut pieces to make enough ground walnuts.

Warning: This recipe dirts a LOT of dishes!

Mocha Walnut Torte

Cake:
1 tsp instant coffee granules
1 tsp vanilla
8 eggs, separated
1 cup sugar
1 tsp lemon rind, grated
2 1/2 cups ground walnuts
1/4 cup flour
1/4 cup dry bread crumbs

Sugar Syrup:
1/4 cup sugar
1/4 cup water
1 tbsp cold strong coffee

Buttercream:
5 egg whites
1 cup sugar
2 1/4 cups butter
4 tsp instant coffee granules
1 1/2 tsp vanilla
1 1/2 oz bittersweet chocolate, melted

Garnish:
16 chocolate coffee beans
1/2 cup coarsely chopped toasted walnuts

1. For cake: Grease and line the bottom and sides of two 9 " cake pans.

2. In small bowl, dissolve coffee in vanilla. Set aside.

3. In large bowl beat egg yolks with 1/2 cup of sugar until light. Beat in coffee and vanilla, and lemon rind.

4. In another bowl, beat egg whites until foamy. Beat in remaining sugar, 2 tbsp at a time until stiff peaks form.

5. In yet ANOTHER bowl, whisk together walnuts, flour and bread crumbs. Fold into egg yolk mixture, alternating with egg whites. Make 3 additions of walnut mixture and 2 of egg whites. Pour into prepared pans and bake at 325F for 35 to 40 minutes.

6. For sugar syrup: Bring sugar and water to a boil over medium high heat. Stir until sugar is dissolved. Boil until clear (about 1 minute). Stir in coffee and let cool.

7. For buttercream: In large heatproof bowl, whisk egg whites with sugar. Place over saucepan of simmering water and cook, whisking often until opaque and mixture reaches a temperature of 110 degrees. Remove from heat and beat with electric mixer until cool (about 10 minutes). Beat in butter, 2 tbsp at a time until satiny (will curdle a bit at first).

8. In small bowl, dissolve coffee in vanilla; beat into buttercream. Transfer 1 3/4 cups of buttercream to another bowl and beat in melted chocolate until smooth.

9. Cut cake into layers horizontally. Place one layer on cake plate and slide strips of wax paper around edges to avoid getting icing on the plate. Brush cake with syrup. Spread with 3/4 cup of buttercream. Add another cake layer, brush with syrup and spread with 3/4 cup of buttercream. Repeat again, and then top with last layer. Spread a thin layer of buttercream over entire cake. Chill for 30 minutes.

10. Transfer 1/3 cup of chocolate buttercream to a piping bag, and set aside. Spread the remaining chocolate buttercream over top and sides of cake. Pipe 16 rosettes on top and place a chocolate coffee bean on each one.