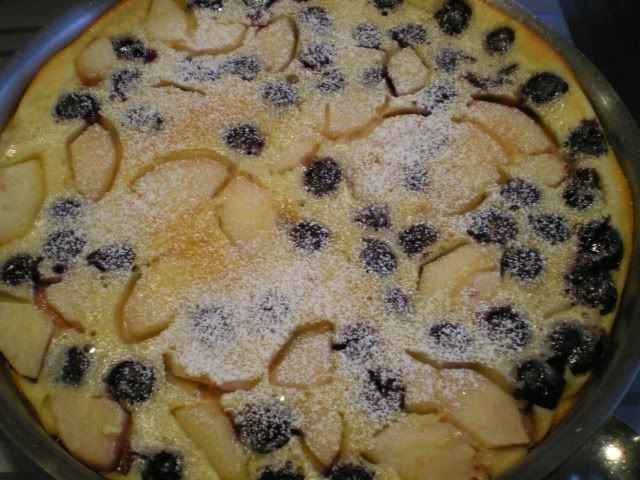 On the weekend, our family was invited to a maple sugar bush for brunch, and I was asked to bring a fruit salad. I bought a can of cherries to add to the salad, but I ended up having plenty of fresh fruit and I didn't need them. Unfortunately, I had jumped the gun and already opened the can, so I needed a way to use them up. I was going to make cherry muffins, but my freezer is already overflowing with muffins, so I decided to try something different. Clafouti is a dish from the Limousin region of France. It can be served as a breakfast or a dessert, since the batter used is very similar to that used for crepes. This is an easy no-brainer dessert, and you can use whatever fruit you have on hand. I have a ton leftover - so I'm not sure I really did much to solve my leftover cherry problems... this dessert could probably serve 8-10 easy.

Pear and Cherry Clafouti

1 lb fresh fruit (I used 1 pear and 1 can cherries)
1/4 cup sugar
4 eggs
1 1/2 cups milk
1 cup flour
1 tsp vanilla
3/4 cup sugar
1 tbsp brandy
powdered sugar for decoration

1. Preheat the over to 375F and coat an oven proof skillet with cooking spray.

2. Mix the fruit with 1/4 cup of sugar and spread it in the bottom of the pan.

3. Mix the eggs, milk, 3/4 cup sugar, flour, vanilla, and brandy with a hand mixer and pour it over the fruit.

4. Put skillet in the oven for 45 minutes or until the top is slightly browned.

5. Dust with icing sugar (serve with ice cream or whipped cream if desired).