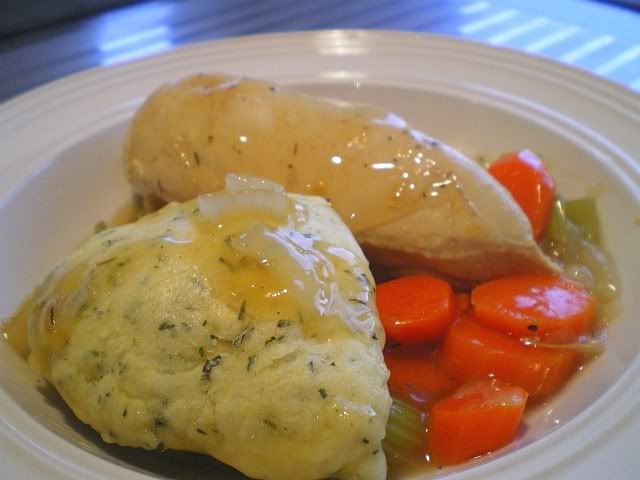 My kids love this recipe. Marco usually doesn't eat the dumplings, but that doesn't bother me since its a good thing that he prefers the healthy parts. He does miss out on my secret ingredient, which is in the dumplings - I add three teaspoons of dried summer savoury. Overall this is a pretty good recipe, even though all the simmering time means we can't possibly eat earlier than about 6:30pm on a work night. Bonus: while it was simmering, I had time to throw together a quick dessert (see the next post). Double Bonus: it works out to be nice and light (for a chicken and dumpling recipe), it serves 4 with about 350 calories and 8 grams of fat per serving. Anti-Bonus: The dessert canceled out the calorie savings on dinner...and then some. (see the next post...sigh).

Chicken Breasts and Dumplings

4 boneless, skinless chicken breasts
3 cups water
2 tsp chicken bouillon
1 medium onion, sliced
1/4 tsp dried thyme
salt and pepper to taste
2 cups sliced carrots
2 celery stalks, chopped
1/4 cup cold water
2 1/2 tbsp cornstarch

For the Dumplings:
1 cup flour
1 1/2 tsp baking powder
3 tsp summer savoury
1/4 tsp salt
1/8 tsp pepper
1 egg
1/4 cup milk
2 tbsp butter, melted

1. In a large covered skillet, poach chicken in water with chicken bouillon for 25 minutes. Remove chicken and add carrots, onion, celery. Return to a boil and simmer 10 more minutes.

2. Meanwhile, combine dry ingredients for dumplings. Beat eggs with milk and butter. Stir wet ingredients into dry.

3. Return chicken to saucepan. Drop dumpling batter by spoonfuls into skillet (you should get about 8 dumplings). Cover and simmer approximately 10 minutes, or until toothpick inserted in center of dumpling comes out clean.