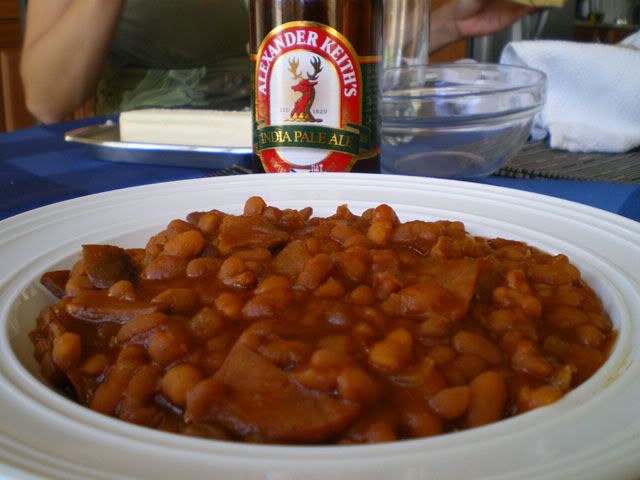 My husband, Mario made dinner last night. He has a few meals in his repertoire and this is one of them, the other is spaghetti. The general rule is this: all the beans and spaghetti consumed in our house are prepared by Mario, all other food consumed in our house, is prepared by me. Sounds fair, eh? Since he made dinner, I let him take the picture too. He got my elbow in the shot, but I decided to leave it in after I noticed that it adds a new angle.

Here is Mario's secret recipe for baked beans (which can also be found on the outside of the bag of "Thompson's White Pea Beans"). He follows it exactly, except that I ask him to substitute Canadian Back Bacon for regular bacon, to cut down the fat.

Baked Beans

2 cups white pea beans
5 cups cold water
1 medium onion, chopped
1/2 tbsp salt
2 tsp cider vinegar
1 tbsp brown sugar
1/2 tsp prepared mustard
1/4 cup molasses
1/2 cup ketchup
pinch pepper
1/4 lb bacon, sliced

1. Soak beans overnight in cold water.

2. Drain. Add 5 cups cold water and bring to a boil. Simmer for 30 minutes. Drain. Reserve cooking liquid.

3. Add all ingredients to pot, stirring gently to combine. Then transfer entire mixture to a crockpot. Add enough of the reserved water to cover mixture.

4. Cook on low setting for 8 to 10 hours.