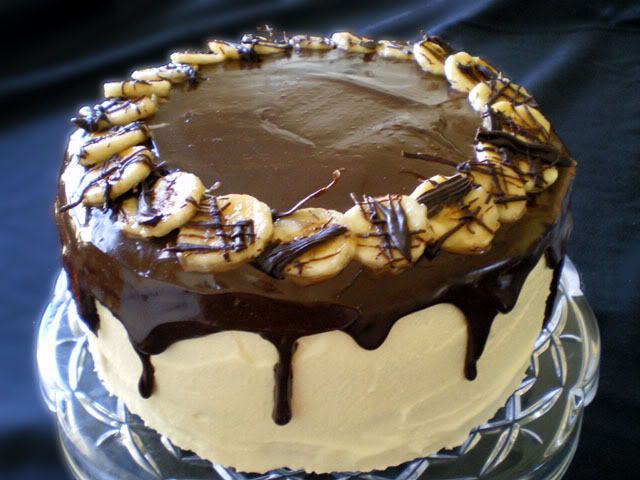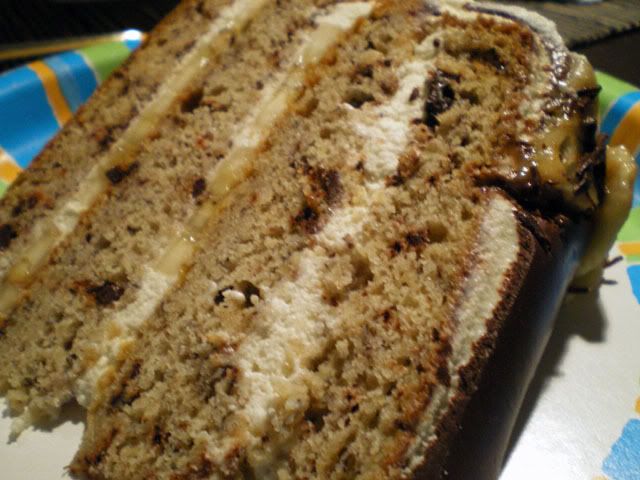 The first time I made this cake was 15 years ago. I remember because it was for my Dad's 50th birthday. I made it again for my husband when we started dating. He says it was the reason he married me. So I made it last night for his birthday (never hurts to remind your husband why he married you). I had about 20 people over last night for cake, so I made two cakes, the other was a walnut mocha cake. I will post the walnut mocha cake tomorrow, but the chocolate banana was by far the more popular with our guests.

I won't lie. This cake is labour intensive. I got the recipe originally from an issue of Canadian Living Magazine, and I have never changed a thing.

Chocolate Banana Cake

Cake:
3/4 cup butter, softened
1 cup sugar
3 eggs
1 1/t tsp vanilla
1/2 cup sour cream
3 cups cake flour
1 1/2 tsp baking soda
4 oz semi-sweet chocolate, chopped
1 1/2 cups mashed bananas

White Chocolate Icing:
3 cups whipping cream
10 oz white chocolate, chopped
1 tsp vanilla

Dark Chocolate Ganache:
1/2 cup whipping cream
4 oz semi-sweet chocolate, chopped

Garnish:
4 bananas, sliced
1 oz melted chocolate

1. For cake: Cream butter and sugar until fluffy. Beat in eggs, one at a time, then vanilla. Beat in sour cream and banana. Combine flour, baking soda and chocolate. Add in 3 additions to creamed mixture. Mix until wet.

2. Spoon into two greased 8 1/2 inch cake pans. Bake at 350F for 35 to 40 minutes. Let cool on rack for 20 minutes. Remove from pans. Let cool completely.

3. For white chocolate icing: In sauce pan, bring half of cream to a boil, pour over chocolate in bowl, whisking until melted. Add vanilla. Chill until cooled (1 hour, whisking often).

4. Beat chocolate and cream just until ridges hold shape. Beat remaining cream just until soft peaks form. Gently fold cream into chocolate cream.

5. Slice cakes in half horizontally. Spread each layer with about 3/4 cup of white chocolate icing and a layer of sliced bananas. Using a palette knife cover cake with a remaining icing and chill until firm (about 1 1/2 hours).

6. For ganache: bring 1/2 cup cream to a boil, pour over chocolate. Whisk until melted and let cool 20 minutes until room temperature but still pourable. Pour over cake, letting some run down the sides.

7. Drizzle melted chocolate over remaining banana slices and arrange on top of cake.