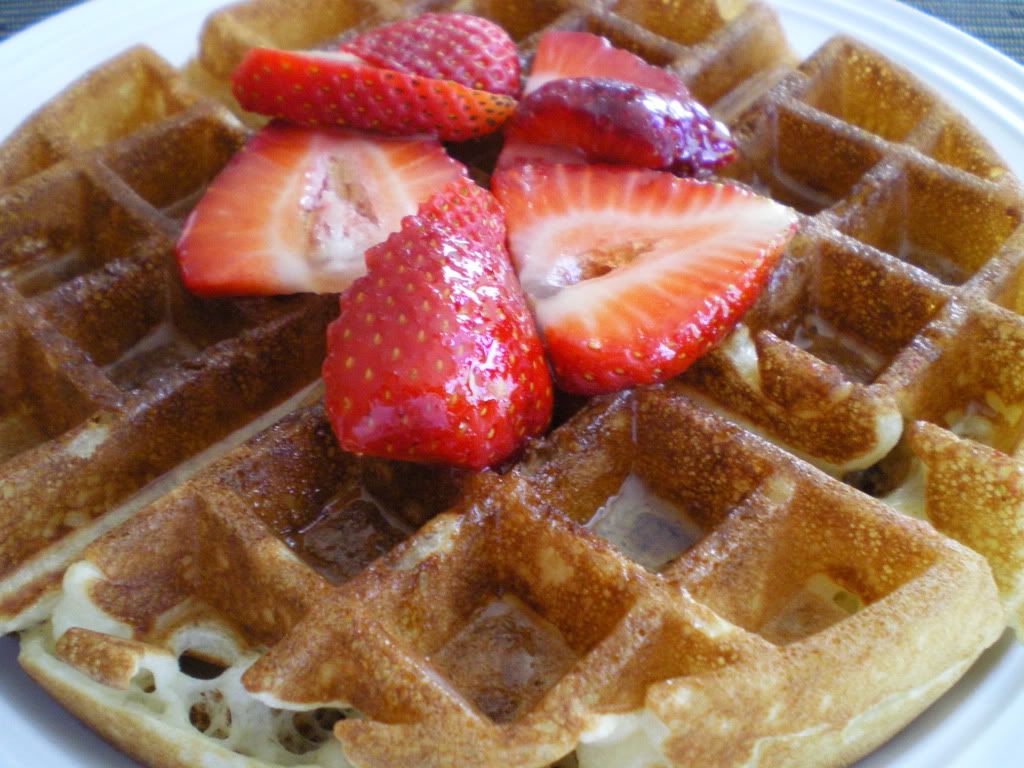 I never realized that true Belgian Waffles were made with yeast until I got my own Waffle Maker for Mother's Day and I read the book that came with it. It seemed like a lot of extra work (and compared to adding water to a pancake mixture, it was), but MAN were these good waffles.

Belgian Waffles
from the book that came with my waffle maker

1 package active dry yeast
1/4 cup warm milk (about 110F)
3 eggs
2 3/4 cups warm milk (about 110F)
3/4 cup butter, melted and cooled to lukewarm
1/2 cup sugar
1 1/2 tsp salt
2 tsp vanilla extract
4 cups flour

1. Dissolve yeast with 1/4 cup warm milk. Let sit about 10 minutes.

2. Separate the eggs. In a large bowl, whisk the egg yolks, 1/4 cup of the warm milk and the melted butter.

3. Add the yeast mixture, sugar, salt and vanilla. Stir in the remaining milk, alternating with the flour.

4. Beat the egg whites until they form soft peaks; fold into the batter.

5. Let sit for one hour, stirring every once in a while.

6. Preheat the waffle iron. Brush with oil and spoon in the amount suggested by your waffle maker. Serve immediately.