We are going camping this weekend... Goodness, maybe I shouldn't have said that - if you are a robber reading about omelets, please don't break into my house while we're gone (I have a REALLY MEAN dog, its like a doberman/pitbull/angry bear mix).

Anyway, when we go camping we always make a heart attack special breakfast. It's the best, it is the only time I will ever eat my eggs fried in bacon fat... which is just so good, but you only bring one frying pan camping right?

Since I have spent the last few days daydreaming about breakfast, I decided to post one that I made a couple of weekends ago but never posted. Sometimes I get embarrassed, I can't post THAT, people are going to think I never eat anything healthy. Well, I do eat lots of healthy stuff, it just makes less mouthwatering blog material.

So here is a favorite breakfast of ours for the weekend. FYI, after I took this picture, I split the omelette with one of the kids, because it was enough for two (Okay Okay I might not have cut it even, it was more like a 70/30 split, but they never noticed).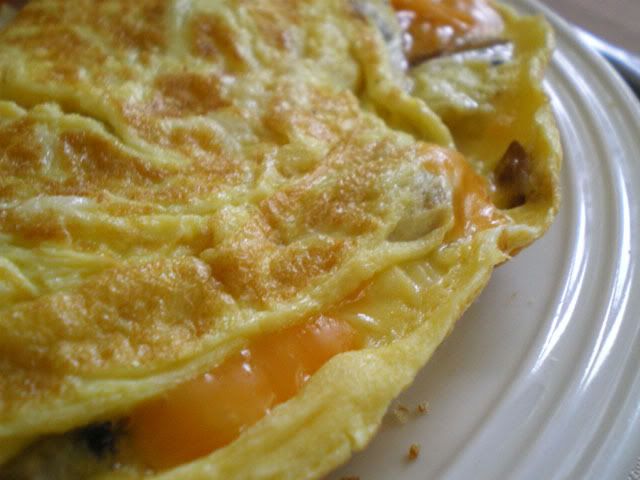 The omelet is served with bacon (overkill, I know), hashbrowns and sliced tomato. To make really good hashbrowns out of grated potato, the trick is to get all the moisture out of them (I squeeze the raw grated potato in my potato ricer), then stir in a tablespoon of cornstarch to soak up the rest of the moisture before frying.

Mushroom and Proscuitto Omelet
Serves 1 really hungry person - multiply as required

3 eggs, beaten
3 white mushrooms, sliced
2 thin slices proscuitto
1/4 cup chopped onion
1/4 cup grated cheddar cheese
salt and pepper
paprika

1. Roll up proscuitto slices and chop up. Saute the onion, mushrooms and proscuitto then set aside.

2. Preheat non-stick frying pan, add a small amount of oil. Beat egg well and dump into frying pan. You can stir the egg around a bit until it starts to set, then leave it alone. Lift the edges gently to let some of the raw egg run underneath and cook quicker (and prevent the omelet from getting too dark on the outside).

3. When the egg is almost cooked, but still runny. Add mushroom, proscuitto, and onion along with the cheese. Cover with a lid and wait (peek every few seconds until cheese is all melted).

4. Sprinkle with paprika, pepper and salt. Fold and slide out of pan onto a plate.