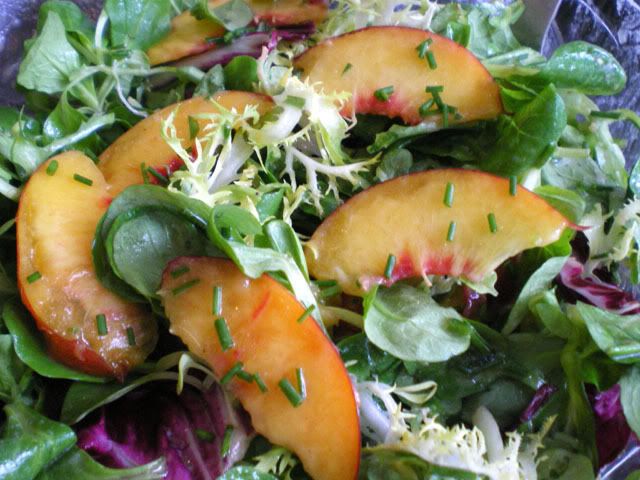 Continuing with my healthy food kick, here is a nice salad recipe that I found in the Bon Appetit August 2007 issue. The original recipe called for Arugula, but I just used mixed greens. It was really tasty, and definitely something I will make again when peaches are in season.

Marco gobbled this up and asked for seconds. Claire is staying with her Grandparents for the week, but had she been here I'm sure she would have hated it. Claire is only 7, but she continues to completely shock (and scare the heck out of) me at how computer/internet savvy she is. So, Claire, if you are reading my blog from Grandma and Gramp's house, we really miss you! When you come home on Sunday, I am going to make your favorite dinner... Spaghetti.

Mixed Green and Peach Salad with Creamy Chive Vinaigrette
adapted from Bon Appetit, August 2007

2 large ripe peaches
2 tbsp fresh lemon juice, divided
6 tbsp olive oil
1 1/2 tbsp heavy cream
salt and pepper
1/3 cup finely chopped fresh chives
12 cups mixed greens (or arugula)

1. Wash peaches and slice thinly. Toss peach slices with 1/2 tbsp of the lemon juice.

2. Mix dressing: In a bottle add remaining lemon juice, oil, cream and chives. Shake bottle. Season to taste.

3. Add mixed greens to the bowl with the peaches and toss with dressing.