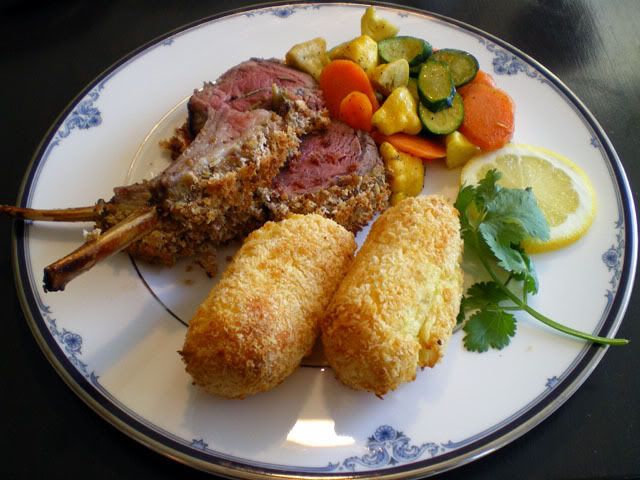 I adore lamb, but I only started eating it a few years ago. I hated it as a child, and as with most things you hate as a child, you should try it again every few years just to make sure you still hate it. I neglected to do this with lamb and I missed countless opportunities to indulge in what has probably since become my number one favorite meat.

I served the lamb with sautéed vegetables and potato croquettes. I made the potato croquettes with leftover mashed potatoes. I shaped them into little logs, dipped them in egg whites and rolled them in panko. Then baked them at 400F with cooking spray for about 30 minutes (turning often).

The recipe below is for one rack of lamb (which usually has about 8 ribs - the perfect amount for our family), but if you are making more, just multiply the recipe as required. I was actually surprised when both my kids polished off their entire dinner, this was good because I made Maple Syrup Creme Brulée for dessert and it would have been a shame if they didn't get to try some. (I'll post the creme brulée soon).

Roasted Garlic and Rosemary Crusted Rack of Lamb

1 frenched rack of lamb
1 head of garlic (not a clove - a whole head)
1 1/2 tbsp olive oil
1 tbsp grainy Dijon mustard
1 tsp dried rosemary
1 tbsp freshly squeezed lemon juice
1/2 tsp each salt and pepper
1/2 cup fresh whole wheat bread crumbs (seasoned with salt and pepper)

1. Preheat oven to 400F, cut about a 1/4 slice off the top of the head of garlic and drizzle with 1/2 tbsp of olive oil. Wrap very loosely with foil and bake for 45 minutes. You can do this far in advance (in the morning or the day before).

2. Squeeze the flesh out of the garlic skins and discard the skins. Mash the garlic with a fork and mix in 1 tbsp oil, mustard, lemon juice, salt and pepper, and rosemary. Set aside.

3. Place lamb, fat side up on a broiler rack and roast in a 400F oven for 10 minutes.

4. Remove lamb from oven and spread garlic mixture over the fat side of the rack. Press breadcrumbs onto the meat. Return to the oven and continue roasting for about 20 minutes, or until a meat thermometre reads 135 (for medium-rare).

5. If the crumb topping is a little pale, place the lamb under the broiler for about 1 minute (mine didn't need this, but I used convection when I roasted the lamb). Slice between the ribs and serve.