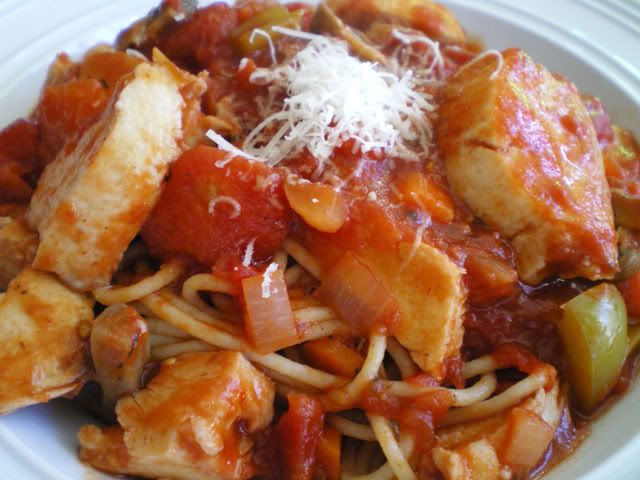 Well, I had a busy weekend and I tried no less than 6 new recipes....5 successes and one major flop. Should I post the flop? Would you guys even want to see flops? I haven't had a chance to download the pictures or write the posts yet, so this morning you are getting a simple everyday dinner that we had one night last week when Mario had to work late (I'm still a little scared of lighting that BBQ by myself).

This chicken wanted to become Chicken Cacciatore when it grew up, but it just never reached its full potential. It wasn't the chicken's fault, I wasn't following a recipe and so it didn't turn out much like an authentic Chicken Cacciatore. It was, however, quite delicious so I decided to post it anyway under a different name, "Chicken Breasts with Tomato Sauce". I know, I need to work on my originality...."Poulet avec sauce aux tomates"?

Chicken Breast with Tomato Sauce

3 boneless skinless chicken breasts
2 tsp olive oil
1 carrot, diced
1/2 large onion, diced
1/4 cup green pepper, diced
1/4 cup celery, diced
1 1/2 cups sliced mushrooms
1 28oz can diced tomatoes
1 can tomato paste
3/4 cup red wine
1 tsp thyme
salt and pepper

1. Bake or grill chicken in the oven until cooked (about 20-30 minutes at 350F). Remove from the over and slice.

2. In a skillet that has a cover, heat olive oil and sauté carrot, onion, green pepper and celery. Cook for about 5 minutes, add mushrooms and continue to cook for 2-3 more minutes.

3. Add canned tomatoes, tomato paste, red wine and thyme. Bring to a boil and simmer, covered for about 10-15 minutes.

4. Mix in sliced chicken and cook for a few more minutes (just to make sure everything is hot).

5. Serve over spaghetti.