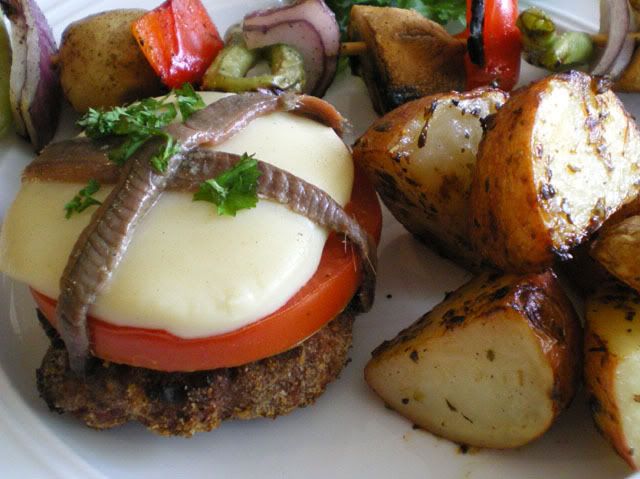 My husband, Mario, was actually thumbing through one of my new cookbooks when he spotted this recipe. He pointed it out to me and asked if I could please make if for him. How could I say no? I was truly excited to see him reading a recipe book, and getting involved in helping me think of new recipes to blog about.

This is not a very traditional hamburger recipe - because there is no bun - nonetheless I am hoping it will qualify for Freya and Paul's Big Burger Ballyhoo 2007 hosted on their blog called Writing at the Kitchen Table.

The recipe called for the Polpettes to be fried, but I thought it seemed like a dish well suited to BBQing, and I was right! The fresh mozzarella cheese, ripe tomato and saltiness of the anchovies was a delicious combination.

I served this with some Greek potatoes that I have been making for years. The potatoes are super yummy and I will post the recipe tomorrow. Lastly, because we needed some veggies to round out the meal, I prepared some vegetable skewers with what I had on hand. I brushed them with a little olive oil, seasoned them with salt and pepper, and had Mario toss them on the grill alongside the Polpettes.

Good Job Sweetie! I might keep you around as my "Recipe Scout"....

Polpettes with Tomato, Mozarella and Anchovies
(adapted from Mediterranean Food of the Sun)

1/2 slice white bread, crusts removed
3 tbsp milk
1 lb ground beef
1 egg, beaten
1/3 cup dry breadcrumbs
2 large ripe tomatoes
1 ball of fresh mozzarella cheese, cut into 6 slices
12 canned drained anchovies
2 tbsp fresh parsley, chopped
salt and freshly ground black pepper

1. In a small saucepan (or in the microwave) warm the milk slightly and then mash the bread into the milk. Let cool.

2. Mix mashed bread, beef and beaten egg together. Season with salt and pepper and shape into 6 patties.

3. Sprinkle breadcrumbs onto a plate and dredge the patties lightly in the breadcrumbs.

4. Place the patties on the grill over direct heat. Cook for a few minutes on the first side, then turn and stack a slice of tomato, mozzarella and two anchovies and a sprinkle of parsley on each patty. Close the lid and cook until the burger has reached the desired doneness and the mozzarella has melted.