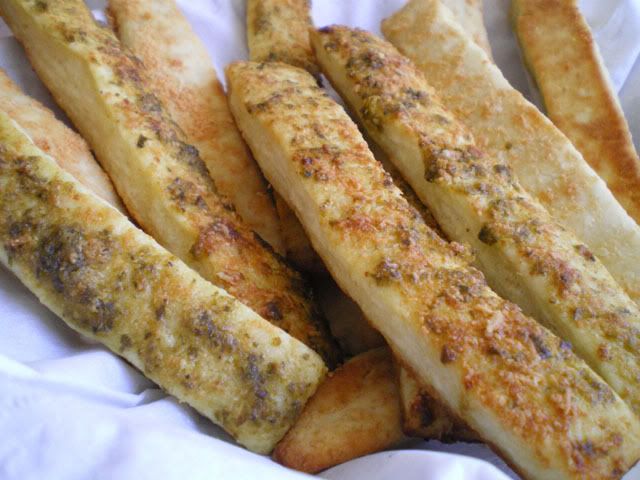 This is a great recipe if you want to have some nice bread alongside your dinner, but you don't have a loaf handy and you don't have time to make a yeast bread. These breadsticks are a real treat and take about 20 minutes from start to finish. I like to paint some store bought Pesto sauce on mine and then sprinkle them with a little Parmesan cheese. You could also sprinkle sesame seeds, cheddar cheese, or whatever else floats your boat. The best part is that these little babies only have about 75 calories each (not including the topping). This time I did half with pesto and half just with Parmesan because Claire and Marco won't eat the ones with the "green stuff".

Soft Pesto Breadsticks

1 1/4 cup flour
1 1/2 tsp baking powder
1 tsp salt
1/2 cup skim milk
2 tbsp butter, melted
your choice of topping (pesto, Parmesan, cheddar, sesame seeds etc).

1. Mix flour, baking powder and salt.

2. Stir in skim milk and mix until dough forms a ball.

3. Roll or pat dough out into a 10" by 6" rectangle and cut it into 12 strips.

4. Paint each stick with butter and place on cookie sheet. Paint on or sprinkle with your choice of topping.

5. Bake at 450F for 14 minutes.