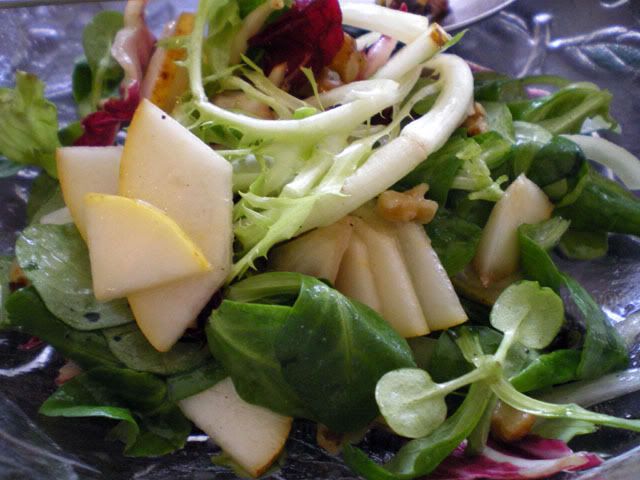 Just a boring old salad recipe today. This is one of our favorite salads though. Easy enough to make for an everyday meal and impressive enough to serve for guests. I found this recipe about a year ago in an LCBO Food and Drink Magazine (a quarterly magazine that you can pick up free at the Liquor Store here in Ontario), it is usually packed with amazing recipes and wine pairing suggestions. Most of the recipes are also available on-line.

We particularly love the maple vinaigrette and I make it often, even when I don't have the pears and walnuts to make the original salad recipe. I have also, on occasion, added little chunks of Brie with great results. The red onion wasn't in the original recipe either, but I think it makes the salad better.

I know the recipe calls for "12 cups" of salad greens, but please don't measure your lettuce - how do you measure lettuce anyway? Just fill a big salad bowl with lettuce and then add the other ingredients and toss with dressing in increments until you think there's enough. Sorry I don't have any funny stories to go along with this post, its hard to screw up a salad.... even for me.

Mixed Greens with Pear, Walnut and Maple Vinaigrette

12 cups mixed salad greens
1 firm ripe pear
1/2 cup toasted walnut
1/4 cup red onion, sliced into thin rings
3 tbsp cider vinegar
3 tbsp olive oil
1 tbsp maple syrup
1/2 tsp salt

1. Wash pear (don't peel) and cut into quarters lengthwise. Slice each quarter crosswise into thin slices.

2. Mix dressing: whisk together the vinegar, olive oil and syrup (I like to use a milk frother to mix my salad dressings).

3. Put the greens, onion, pear, and toasted walnuts in a large bowl and toss with dressing, until everything is lightly coated.