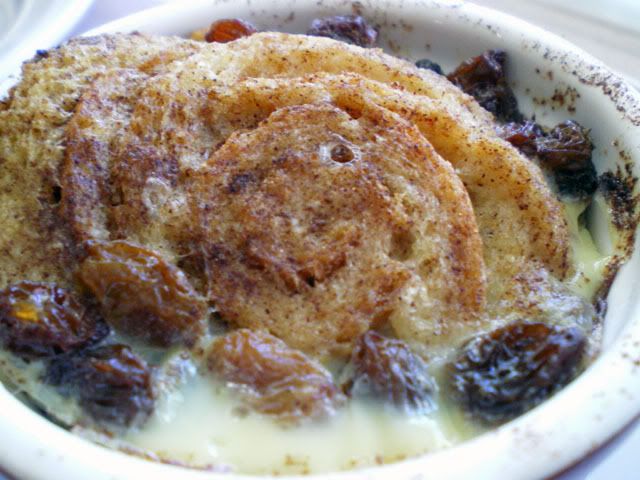 Last weekend for breakfast, I made baked eggs in bread-lined muffin tins. This required cutting the crusts off the bread, so I saved all the crusts in a Ziploc bag to make bread pudding for dessert sometime. I stuffed all the crusts down into the bottom of my ramekins so that they made little spirals.

I think the funniest part of this recipe was that I made myself a "light" version, different from the rest of the family's with 1/4 cup of egg beater, 1/4 cup skim milk and 1 tbsp of twin sugar substitute. Then when I was taking them out of the water bath, I wasn't paying attention and I got the "light" one mixed up with the regular ones. They all looked identical. You would think that the ones made with real eggs would be a little richer in colour or something, but nope, there was no difference in appearance. So one of us had a nice healthy low calorie, low fat bread pudding and the rest of us had the real thing. I was so mad at myself! The recipe below is for the regular version (have no idea which version is in the picture....)

Individual Bread Puddings

Whole Wheat Bread Crusts (from about 6-8 slices of bread)
1 tsp cinnamon
1/4 cup raisins
1 1/2 cups milk
1/4 cup sugar
1 egg, beaten

1. Divide the bread crusts between 4 ramekins. Stuff them on edge down into the bottom of the dish so that they made a spiral (your finished product will look a little like a cinnamon bun).

2. Sprinkle each with 1/4 tsp cinnamon and some raisins.

3. Mix milk, egg and sugar and pour slowly over the bread in each ramekin.

4. Place ramekins in a square baking dish and fill dish with hot water (up to halfway up the sides of the ramekins).

5. Bake at 350F for about an hour. Serve with ice cream or whipped cream (or frozen yoghurt for the "light" one - whichever one that was!).