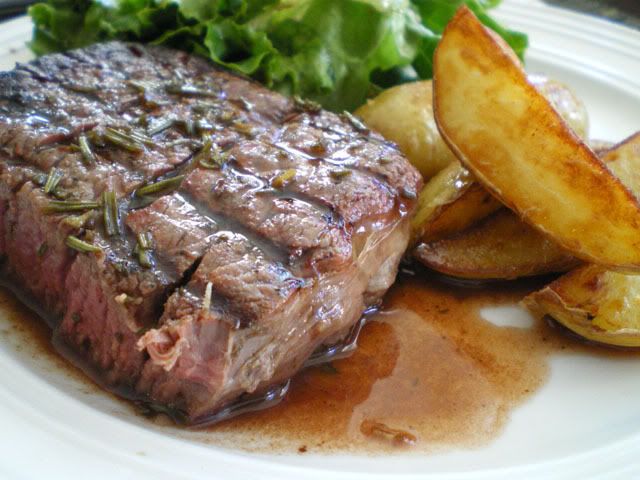 Here is another barbequed steak recipe. I have lots of these in my repertoire mainly because Mario loves to eat a lot of steak in the summer. He would be happy to just shake some Montreal Steak Spice on them every time, but I'm thinking my blog might get a little boring... Hey look, Janet just posted another recipe for Filet Mignon with Montreal Steak Spice....spread the word!

We usually buy a really big beef tenderloin for around $100 and then slice it into steaks and freeze them. This will usually yield about 16-20 steaks... more than enough to get us through the week (kidding!).

One other thing I wanted to point out is that this recipe uses, not just fresh rosemary, but rosemary I grew myself! OK, not really, but I BOUGHT a rosemary plant three weeks ago and haven't killed it yet, which counts as growing it myself, right?

Truly, I don't have a green thumb... we went on vacation this winter and I left our house keys with a friend to water our plants and stuff. He e-mailed on the first day, "uh, Janet, your plants are already dead"..."oh. Yeah well great job! Last time I trust YOU with my precious plants! Geesh" (I'm not letting him near my rosemary).

Filet Mignon with Rosemary and Port Reduction

4 beef tenderloin steaks
2 cloves garlic, halved
salt and pepper
1/2 cup Port
1/2 cup beef broth
1 tsp chopped fresh rosemary
1/4 tsp salt
2 tsp butter

1. Rub cut garlic over both sides of steaks and season with salt and pepper.

2. Grill steak over direct heat until desired doneness.

3. While steak is grilling, bring Port, broth and rosemary to a boil in a small saucepan. Boil until reduced to about 1/3 cup. (You can make the sauce ahead and reheat it just before the steaks are ready).

4. Stir butter into sauce and serve over steaks.